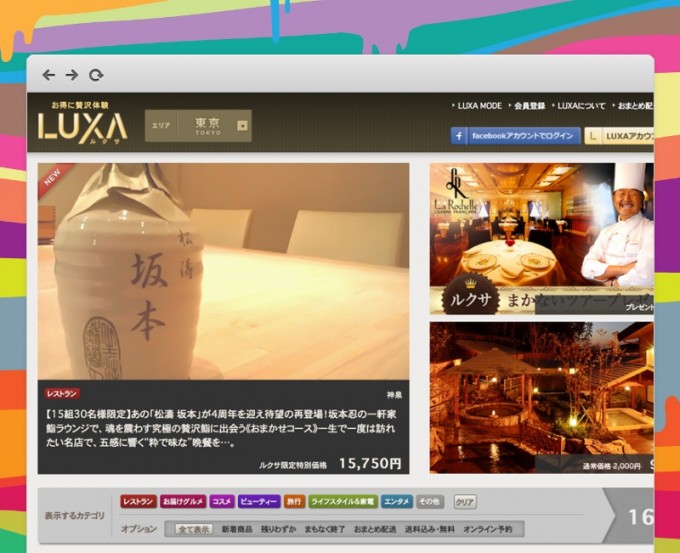 Selling everything from pricey sake to quality skincare products, Luxa.jp, as its name might suggest, is a luxury-oriented e-commerce site. Its main draw is that its items are sold at useful discounts during flash sales. Today Luxa is announcing 500 million yen (US$5.25 million) in series B funding from the JAFCO Super V3 Series Fund. Its first major round was worth the same amount.
Luxa's new funding will be used to strengthen its sales force, accelerate customer acquisition, and "launch various vertical sites targeting specific categories." That will likely see Luxa expand some of its specialist areas, like home decor or foodstuffs.
Most of Luxa's flash sales start at noon each day and run for 72 hours. The site has over 350,000 members so far, with its largest user-base being fairly prosperous Japanese consumers aged 30 to 40. It aims to use the newest investment to reach one million users soon, and to hit an annual sales revenue of $1 billion by 2016.
In its home market, Luxa is up against the likes of Glamour Sales, which has a similarly broad variety of products.
We've seen such luxury flash sales sites do well elsewhere in Asia. Perhaps the best success of its kind in the region is China's VIPShop (NYSE:VIPS), whose stock value has kept rising since its US IPO last year where it raised over $70 million.
The last time we saw the JAFCO fund in action, it pumped $5 million into the voice messaging social network Bubble Motion.