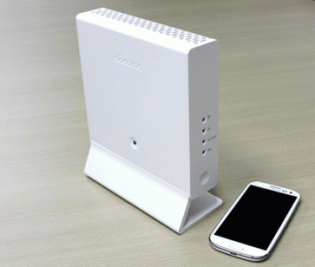 Japan's NTT Docomo (NYSE:DCM) has announced today that it will soon be commercially launching what it calls the world's first dual mode small-cell base station (pictured right) to simultaneously support and improve 3G and LTE coverage for indoor locations.
These compact base stations (aka femtocells) are scheduled to launch in December, the idea being that if businesses deploy them in buildings (like offices or shops) that they can supplement Docomo's existing network and ensure that coverage and network performance meets customers' expectations. The company has marketed 3G femtocells for a few years already.
The device (which measures just 18.5 x 17.5 x 4.5cm) will cover an area of 'tens of meters' depending on the conditions. Users just need to connect it to a fixed broadband line, and from there they'll be able to enjoy a higher-quality of coverage.
Docomo is Japan's leading mobile carrier with over 60 million subscribers, of which about 6.7 million are LTE subscribers (see chart below).