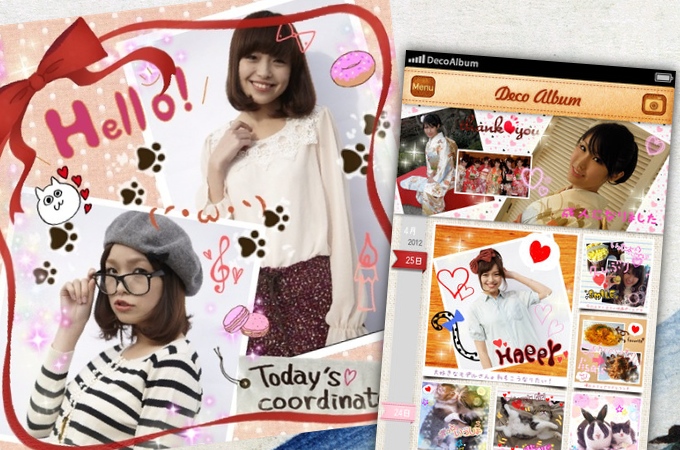 Yes, there's already Instagram and a whole host of photo-sharing services out there, but they don't allow for much photo tweaking. That's why niche photo apps for customizing images often do well – especially apps aimed at half the population. That's the case with Japan-made DecoAlbum, which is aimed at women smartphone owners. The startup has just revealed the finalization of $100,000 in seed funding from East Ventures. (Disclosure: East Ventures is also an investor in TechinAsia).
First launched in June last year on iPhone, then in December on Android, the DecoAlbum team tells us that it now has one million users, with half of those being active each month. The app's available in English, Chinese, Japanese, Korean, and Thai.
DecoAlbum is not a social network by itself, and instead focuses on customization of your photos with text, backgrounds, glittery virtual stickers, and lots more. It supports posting images to Instagram. Plus, the app lets users chronicle their photos and organize them into albums in a way that's easier than with the stock photo apps on iOS and Android.
There's a "DecoShop" inside where users can download extra artwork. Currently, all 600-plus customizations are free, but that's a monetization avenue the startup can follow.
90 percent of DecoAlbum's users are Asia. There's a lot of competition in this kawaii sector of the app market, with lots of similar apps from developers across Japan, South Korea, and China. That includes some major web portal competition, such as from SK's Cymera or the China-made MeiXiuXiu.
Find DecoAlbum for free on iPhone or Android.
Disclosure: As mentioned above, East Ventures is an investor in TechinAsia. See our ethics page for more information.