The business of cloud computing is projected to generate more than 14 million jobs around the globe in the next three years, including 10 million in the Asia Pacific region [1]. So which Asian nations are poised to capitalize on that? According to a report from the Asia Cloud Computing Association, no Asian nation is better prepared than Japan.
The group's Cloud Readiness Index tracks the development of infrastructure and environments in the Asia region, and its latest report gives us an interesting breakdown of how Asian countries compare, as you can see in the chart below.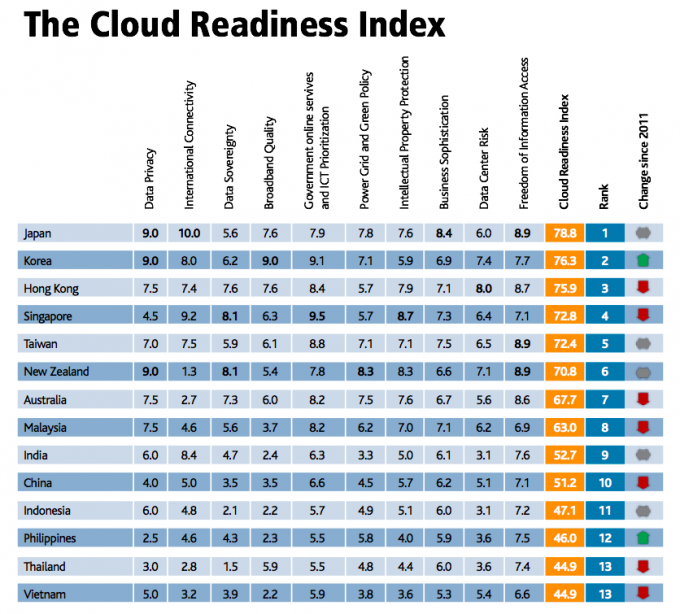 According to the report, Japan had an overall CRI score of 78.8, and was the only country to score a 10 in internet connectivity – so it's especially well-prepared for cloud computing in comparison to most of its Asian neighbors. The report also points out that the country is faring well despite recent challenges:
Even the power shortages that have followed since the March 2011 earthquake have been managed well by the data centre industry. We believe Japan has the optimum mix of policies, business and infrastructure to continue and drive growth and adoption of cloud computing.
It further notes that Japan could further improve in the area of data sovereignty, where it scored TK, but still high above the average of score of 5.3.
As you might expect, other mature technology markets in the region also scored well, with Korea (with a score of 76.3) overtaking Hong Kong (75.9) for second place. Rounding out the top five were Singapore (72.8) and Taiwan (72.4).
Comparing the two mega-markets of India and China, those nations fared similarly in 9th (52.7) and 10th positions (51.2) respectively.
If you'd like to check out the report in full, you can find it here.
---
According to a study by IDC.  ↩