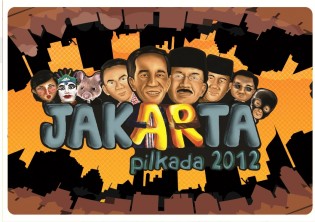 The final chapter of the Jakarta Governor's election started this morning as second-round voting began. To celebrate democracy in the capital city of Indonesia, AR&Co. have launched an app called "jakARta Pilkada for Android" (meaning "Jakarta Election for Android"). Upon starting the app you will be welcomed with some familiar "Jakarta faces" such as Ondel-ondel (the traditional puppet of Jakarta's ethnic group), a businessman, a criminal, q politician, and a rat (as a symbol of corruption).
With this app, you can play a game to match card pictures based on the candidates. But you will need to download and print its content from AR&Co website. The camera of your Android device will track the printed picture to pop out nine cards. You then have only 30 seconds to pair the cards, which bear the faces of the governor and vice governor candidates. It uses the augmented reality (AR) know-how of the developers pretty well.
If you win, you can take a cartoony picture in the signature campaign style. As shown in the demo video below, place your head in the checked shirt to be a Joko Widodo supporter. You can even put a mustache on your face if you choose the incumbent candidate, Fauzi Bowo. The pictures taken will be saved in your Android phone.
The need to print the picture reduces the pleasure of this app. But the printed picture is what makes this app truly an AR game. Yet you can avoid the printing by downloading the pictures to another device, so you just point the camera at the other screen. You can also play in pairs.
It's an interesting alternative to the two official games released earlier by the candidates, Fauzi and Joko.
AR&Co's MD, Peter Shearer, says that this app is trying to bring positivity to the election. He explains:
As an educated and creative people, Jakarta residents can show support for the election through creative acts to spread a positive message.
He reckons the negative issues that dogged this election campaign are not considered appropriate in such an important event that will determine the future of the city.
You can download this free app in Google Play. Don't forget to download the tracking file from AR&Co. website. Also, here's a very brief demo video: