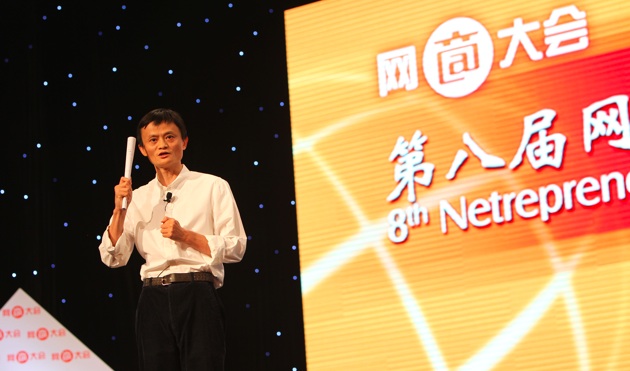 You know what's cooler than a billion RMB? A trillion RMB! OK, so those weren't the actual words of Alibaba's founder and CEO, Jack Ma, talking yesterday at the 8th Netrepreneur Summit, but he did actually say that Alibaba Group was aiming for "one trillion RMB in transactions " in China in 2012 on Tmall.com and Taobao.com, its B2C and C2C trade platforms. That's US$156.5 billion at today's exchange rate.
The e-commerce giant's energetic CEO was talking yesterday before a packed auditorium in Hangzhou, eastern China – the hometown of Mr Ma himself, as well as his company. Despite throwing the big number out there at the start of his hour-long speech and Q&A session, the central tenet of his keynote was quite different. It centered on how competition is good for society, and how it raises quality and lowers prices. Taking the example of some of Taobao's top customer-rated sellers, he said:
Good service brings wealth; and that's how e-commerce is creating a new business culture.
Baidu got mentioned. Jack Ma said, to paraphrase, that if Alibaba entered the search engine business, it'd give Baidu sleepless nights; and if Baidu has sleepless nights, then Chinese people could sleep well.
In typically feisty form, Ma's words came across not so much a personal attack on Baidu as an indication that strong competition on the Chinese web keeps competitors leaner and keener. Ma also made a jibe – in his wide-ranging speech – at Chinese state-owned enterprises (SOEs) saying that he was keen to "shake up" monolithic government firms such as China Post and China Mobile. That too, he emphasised, would benefit the whole business ecosystem. As for China Post, he explained how a multitude of small courier firms – to which he also gave thanks – has grown along with his Taobao e-commerce platform to deliver tens of millions of items across the country.
The summit also featured talks from Hong Kong film star Jet Li – comparing his early life to the challenges faced by entrepreneurs – and the New York Times' Thomas Friedman, who celebrated the kind of global competition that Alibaba represents, saying that everyone needs to be sharp, and "think like a new immigrant," in acquiring globally relevant skills.
In a speech that had plenty of one-liners and anecdotes – eliciting the kinds of laughs and cheers you might associate normally with a Steve Jobs keynote – Jack Ma also referenced the firing-cum-resigning of Yahoo CEO Carol Bartz, quipping, "It was nothing to do with me."
See more: What is Jack Ma's net worth?