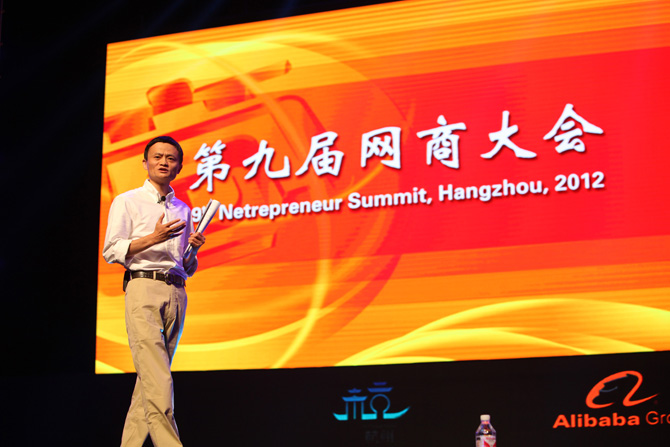 As Jack Ma walks up, the crowd here at its AliFest 2012 event cheered, clapped, and screamed. It was a great atmosphere which felt warm, and down-to-earth – and very entrepreneurial. It was a fairly long speech by the founder of Alibaba Group that consisted of his thoughts on the world, government, and today's entrepreneurs. So while I digest his speech, I have quickly blogged the three things he shared which will define Alibaba – and also the future of all 'netrepreneurs' – in the next ten years:
1. A Better Platform
Alibaba has a range of services; all seven of them are: Alibaba.com, Taobao.com, and Tmall.com for online shopping; Aliyun as a cloud computing service and mobile OS; Juhuasuan for daily deals; eTao for product search; and AliFinance for loans. These seven tools, though already a good ecosystem for buying and selling online, Ma explained he wants to make them even better for merchants – the netrepreneurs. He explains that merchants are the guys who understand consumers the best. Ma didn't elaborate what would be improved across the platforms though. An Alibaba rep whom I spoke to after the event stressed that this is a ten-year vision set by Ma.
2. Loans
Ma says that banks should support small- and medium-sized businesses (SMEs). But the banks can't, for whatever reasons, Ma joked. So Alibaba will fit into this role, acting as a micro-financing platform to support budding e-commerce entrepreneurs. The company is doing it already. For merchants on its platforms and virtual malls, there's no need for early revenue, no need for a contract, or preferential contacts (a common Chinese biz issue). They're kickstarter loans. Alibaba just wants the merchants' dedication to serve consumers well and be a profitable venture on the company's e-commerce platforms. So far, Alibaba has backed over 15,000 enterprises with an average of 47,000 RMB (US$7,400) per loan. He stresses that Alibaba isn't silly in this venture into loans, and that this program is surely set to make money. He said (translations are mine):
Making money is ethical. And a business that isn't making money is regretful. You might as well do a social enterprise! […] We make money because we want to serve more people in the future.
3. Data
Data was also talked about yesterday by Prof. Zeng Ming, Alibaba's chief strategist. And it is mentioned again by Ma today. While Tmall and Taobao have data that can be provided to merchants, Alibaba wants to provide better data. Data, which probably can help merchants serve consumers better. He says that with real-time data, you can forecast what will happen in the market.
Ma went on to explain that Alibaba needs more policymakers and psychologists. The average age of Alibaba's staff is 27, and inevitably the lack of experience has caused users to be unhappy, such as during the protests among some merchants of Tmall when some structural changes were made. Alibaba has more than 80 million unique visitors per day on Taobao.com so even the slightest fraction who're unhappy causes tens of thousands of dissatisfied users.
Ma added, "We believe data will improve the success rate of entrepreneurs. I believe data is the future."
<
p style="text-align: center;">See more: What is Jack Ma's net worth?