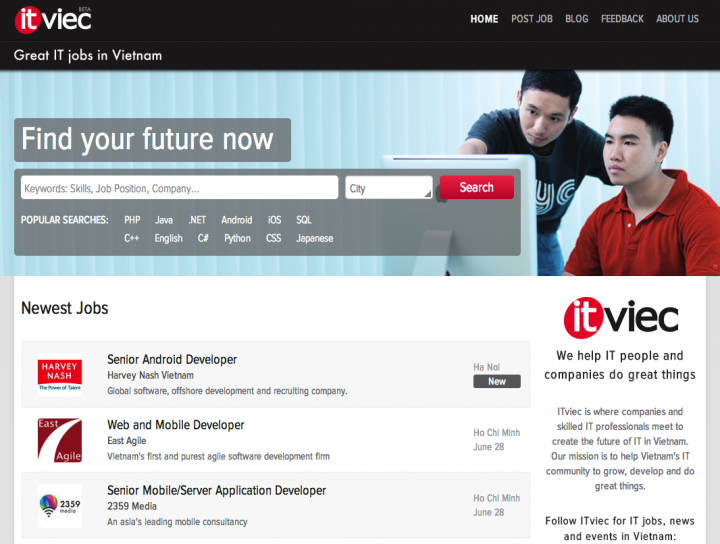 As many of you may already know, Vietnam is a competitive outsourcing market. Foreign companies are looking outside of megalithic and increasingly expensive companies in China and India, and instead looking into countries in Southeast Asia – and Vietnam is usually on the top of the list for developers. One of the problems with this is the struggle to find people to deal with the ongoing demand for technical projects. That's why there are folks like VietnamGeeks, who've been working on basic online recruitment, and hackers like Geeky.vn building very unique recruitment models. In the midst of these two and other larger and smaller recruitment sites, ITviec is also looking to make its mark in the IT recruitment space. The site launched this month.
ITviec, which literally means IT jobs, could be easily interpreted in Vietnamese to mean "little" or "few" jobs, because "it" can also be written as "ít". This has made the branding the butt of many Vietnamese jokes. The founder and CEO, Chris Harvey, is optimistic though:
After I chose the name and created the logo someone told me that it looked like "it viec", which means "few jobs" in Vietnamese. It sure does. I felt pretty silly. But after I thought about it I decided that "it viec" works just fine. After all, we're not trying to have the most jobs on ITviec – just the best ones. And "ítviec" is easy to remember too!
But the branding aside, Chris has an impressive background, formerly working as the CEO of Vietnamworks for six years. Vietnamworks, the number one jobs site in Vietnam, was acquired by En-Japan earlier this year. Chris is looking to transfer his expertise to ITviec.
Unfortunately, the market is rather crowded with Vietnamworks, Vietnamgeeks, Geeky.vn, and more. What differentiates ITviec? Chris says there are three key things:
The first is we focus 100 percent on skilled IT jobs with salaries over 16 million VND per month. You won't find restaurant or secretary jobs on ITviec – only interesting IT jobs for experienced IT people. The second is that our site provides extra value for jobseekers and companies. Each job is tagged with "skill tags" (like .NET or Android development) so jobseekers can see and search on the most important skills needed in a job. Employers get valuable information on each candidate because jobseekers must answer a question from the employer in order to apply. The third is we will organize workshops and events on new technologies, team leadership, and career management for both jobseekers and employers.
Moving forward, it will be interesting to see how ITviec fares in a market that is quite small and niche compared to more general services from Vietnamworks and Kiem Viec (which was acquired by Career Builder). Like these sites, ITviec will be asking job posters to pay a fee, but it currently has free trials for a number of companies. So far, 50 companies are already using the site with 70 jobs live on the website.