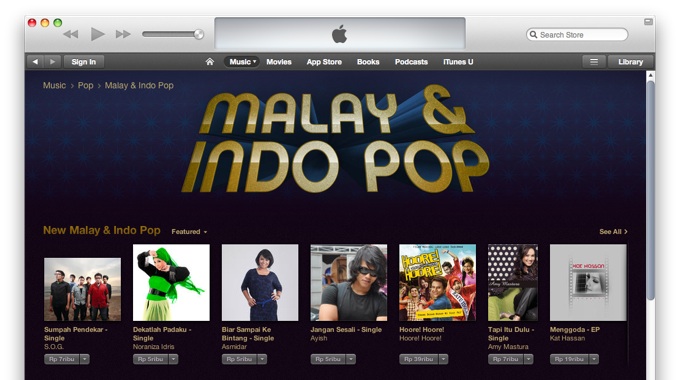 Apple's iTunes began to accept payments for apps in the currencies of India and Indonesia in October of this year – and that's the basis for today's rollout of the iTunes Music Store in those countries. But it's not just tunes, as India and Indonesia also get movie purchases and rentals.
It's part of a huge expansion of the iTunes Music Store to 56 new countries today, but only four of them get support for movies (and only those two in Asia). In this region, music sales are now available in (courtesy of a neat list by MacRumors):
Asia Pacific: Fiji, Indonesia, Kazakhstan, Kyrgyzstan, Micronesia, Mongolia, Nepal, Papua New Guinea, Tajikistan, Turkmenistan, Uzbekistan
Today's action brings the iTunes Music Store to 119 countries in total. China is still off the list, though it does have apps and local currency support.
Some prices in the new music store in Indonesia seem reasonable, with one K-Pop album I spotted costing just IDR 30,000 (US$3.15); but the purchase of the HD version of the movie The Raid costs a full IDR 149,000 ($15.60).
Both India and Indonesia have a books section in the iTunes store, but those remain just a very limited selection of free titles.
Last summer, Indonesian authorities made moves to shut down 20 notorious illegal music-sharing sites, and even targeted blocking overseas sites that encouraged piracy, such as 4shared. But, 4Shared is accessible in the country today, and even locally-based file-sharing sites like musik-corner.com were never actually shut down by authorities.
[Source: MacRumors]