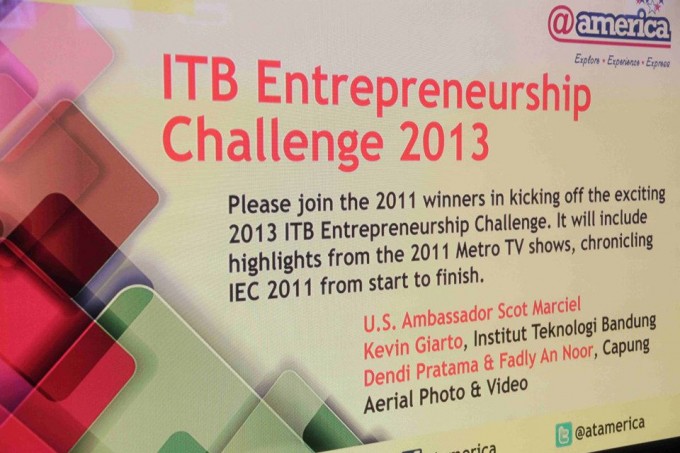 The Bandung Institute of Technology (ITB) is holding a nationwide business plan competition aimed at Indonesian university students. It's called the ITB Entrepreneurship Challenge (IEC) 2013. The competition consists of two categories: 'Idea Canvas' for public participants and 'Startup Coliseum' for students already running startups. The prizes look interesting too, as it promises a total of more than IDR 90 million (US$9,360) to winners. Here are the details:
Deadline submission: February 17th
Price: IDR 150,000 ($16) per team for Idea Canvas, IDR 300,000 ($31) per team for Startup Coliseum
Participants: Each team must consist of three active university students
Business plan sub-categories: Technology, creative industry, agribusiness, culinary, and services.
The first place winner in the Startup Coliseum category will receive IDR 30 million ($3,120), with IDR 20 million ($2,080) and IDR 10 million ($1,040) awarded to second and third place respectively. The Idea Canvas category winners will compete for IDR 15 million ($1,560), IDR 10 million ($1,040), and IDR 7.5 million ($780) for the three top spots. There will also be awards given for the best participants in each sub-category. It's expected that the prize money should prove very useful in kickstarting students' businesses.
The top ten teams from each category will be invited to join a five-day workshop where they will receive help in refining their business plans by participating experts. After that the teams will compete in a public presentation called IEC Expo. The IEC committees explained that in this particular event, participants will have an opportunity to pitch their plans not only to the judges, but also to the public. We understand that several investors will also be attending the event.
IEC 2013 is supported by the US Embassy. And it might also offer pleasant surprises. During IEC's last competition back in 2011, the competition offered additional prizes to the champion, which included a free return trip to the US and further exposure on national TV station, MetroTV. The committees are hoping that they can provide further surprises down the line for the participants during this year's competition.
The IEC 2011 champion was the team behind Capung, whose business is to take pictures and videos from the air with a radio-controlled aircraft (portfolio video below). This enables coverage of areas which usually aren't possible to be covered like disaster-stricken places. The Capung team said at the time that the only alternative was via a helicopter, which is far more expensive than using the team's services. They said that winning the IEC competition helped tremendously in boosting their business because they also got to know many helpful people and made connections during the event itself.
IEC 2013 will also include a grand seminar on February 9th in Bandung to help provide more insight and motivation to potential participants and the public regarding entrepreneurship. You can see further details of the whole event and make your registration here.