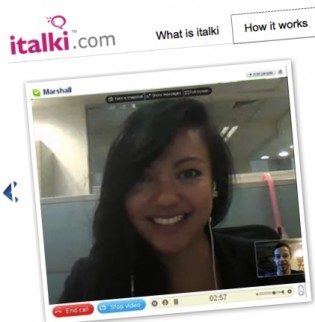 With the idea that we learn faster from fellow humans than from textbooks, Shanghai-based italki is a language learning social network and marketplace. And now, the company tells us, it has raised a second round of angel funding from an assortment of international investors. italki's marketing manager, Ross Cranwell, tells us that the round is worth "hundreds of thousands, rather than millions" of dollars, and that the service has over 900,000 users from more than 200 countries using it to learn numerous languages.
The italki.com site is where its members use P2P video and voice chats, and literal peer-to-peer interaction, to learn in an active way. As for the teachers, many of those are native speakers of a language who earn money via italki as a community tutor; but there are also professional teachers and free language exchange partners. The platform describes itself as being cheaper and more flexible than going to language schools.
The site launched in 2006, so it can't really be described as a startup anymore. Its learners can purchase material and take tests on the site, such as those from Oxford University Press and the "Oxford online placement test." Co founder Kevin Chen said in today's announcement:
Over the past few years we have built a strong ecosystem for language learners to find online teachers. Our new financing will help us expand internationally, as part of our mission to help more people become fluent in foreign languages.
Among its private investors are William Bao Bean (separate from his work as MD of the Singtel Innov8 VC fund), and Marc Van Der Chijs, who's the co-founder of UnitedStyles and Chinese video-streaming site Tudou.
Here's a demo video from the company of a Korean youngster learning English online with the service:
(Video link for mobile readers)