Fans of the series may remember a special moment at E3 2006 when Square Enix used a CGI clip to reveal Final Fantasy XIII Versus. The company later announced that the Versus name had been dropped and the game will officially be Final Fantasy XV. The installment comes from the creators of Kingdom Hearts and looks to be one incredible action packed RPG. Just look at the trailer from last year's E3!
So the question you are undoubtedly asking yourself is, "What's the holdup?" The game was announced over SEVEN years ago and still no sign of release. Troubling? Maybe, maybe not. The game looks like a massive undertaking and Square Enix wants to put out a masterpiece. I can appreciate that.
However, through the project manager's Linkedin account it can be seen that they are outsourcing focused management for Final Fantasy XV and other 1st Production titles. This alone may not mean anything, but coupled with the amount of time FFXV is taking to develop might indicated need for concern.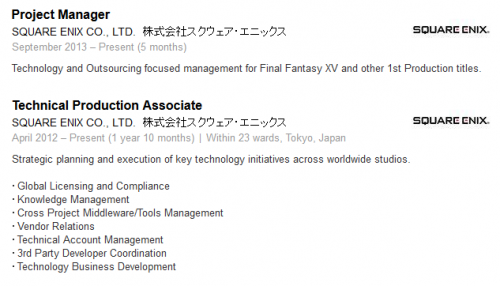 Seems like things may not be all clear on the FFXV front. What do you guys think?
UPDATE 13-1-2014: A previous version of this article ended with a quotation from P4RGaming, which the author did not realize was a satirical news site. We apologize for the error.