John Fearon is a lifelong entrepreneur. His 33 years have taken him from selling sweets as a child, to global digital marketing, to founding Dropmyemail.com, one of the fastest growing cloud companies today.
---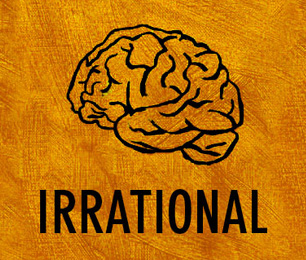 I was asked recently in a shareholder meeting how we are able to survive and thrive. Some investors joked that it was irrational optimism. But sometimes the truth is said in jest, and I believe this is one of the fundamental traits for success in any field. This concept of irrational optimism very much relates to what we have achieved with Dropmyemail in 2012.
Prior to launching, no one believed there was a market or a need for email backups. Even with some tangible traction, there were few believers as the initial funds started to wither and I struggled to pay rent. But still I keep my chin up and powered on.
To be clear, being irrationally optimistic means always having a positive outlook on the future while constantly getting kicked in the head. It is the belief that someday by an amazing stroke of luck that something great will pop up. But equally as important, it means being able to back up that talk with a great game, business, product, or service.
"The harder I work, the luckier I get," said Gary Player, South African professional golfer, widely regarded as one of the greatest players in the history of golf. Irrationally optimistic means working hard until you become lucky. As they say, when opportunity knocks, be ready to open the door.
Businesses leaders set the tone for the work ethic of their business. I find that the most successful people I meet share the same trait of being very hard workers. Usually this equates to undivided focus on the end goal and working long grueling hours.
The Dropmyemail team works practically around the clock with five global offices (Argentina, US, Singapore, India, and Japan). There are only 14 staff to cover all aspects of the core and non-core business, which backs up over 250 million emails and growing.
However, just working hard does not make you successful. What makes business people thrive still depends very much on luck. This is not to say you should sit and wait for a tide of good fortune to wash over you. It is trying everything you can until your magnanimous benefactor(s) appears.
Ask any seasoned sales representative about how they meet their quota and you will get the same answer — the law of numbers. Knock on enough doors and speak to enough people, there will be sales. If the results aren't enough, knock on more doors.
I have lost track of how many times I have pitched for funding from venture capitalist, funds, angel investor, rich friends, and their richer friends. It was hard securing meetings and many of those were outright rejections. But a few of the many gave us enough funding to carry on.
Another way to invite the good luck to your door is to tweak things to find out what works. Like Eric Ries' "Lean Startup" method, you keep testing what will work for your business. It is a state of constant improvement, which is better than having to do a painful pivot afterwards. It is a constant process of design, execute, test result, and repeat.
Dropmyemail pushed constantly for improvements and additional features: viral publicity for more storage, automatic security scans, easy email attachment search, file uploading / sharing, support for eight languages, increased storage, daily trials, and now a specialized backup solution for corporate emails. We also tried various designs and reiterations, and the final product was adjusted daily.
Just like dominoes, with one stroke, everything started to fall into place. We were cast in "Angels Gate" season one, a reality TV show on ChannelNewsAsia, where entrepreneurs pitch to venture capitalists for investments. After a few nervy commercial breaks, we secured first round seed funding of SG$250,000.
Our success continued with the DEMO Guru award at DEMO Asia '12 in March and then we got spotlighted as an APAC featured startup on Amazon Web Services. We were rapidly scaling and reaching 525,000 users in the first 50 days of our launch and were crowned as the fastest growing startup in Asia and we made the top 10 at Echelon '12. There was coverage from international media like the Wall Street Journal, CNBC, VentureBeat, and more. We are now close to announcing some major reseller deals to take our service to millions in Asia.
We don't believe we have figured it all out, and there are always ways to make things better with more improvements around email backups, marketing channels, more qualified staff, more cooperative providers etc. But we are happy with progress and our shareholders are happy too!
With that, we are irrationally optimistic about reaching the next level in 2013.