Are you someone who still likes to send postcards but is sick of the boring, cliche photos in the gift shop? Or do you just want to use a selfie (yes, a new word recently added to the Oxford English Dictionary) as a postcard? If the answer is yes, then allow me to introduce you to iPost-a-card. It is a postcard customization app that allows users to use their own photos as a postcard, insert personal text, print it, and send to a friend.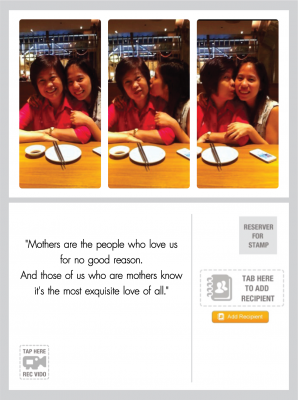 You may ask, why is this app special? It sounds exactly like SodaSnap, Postagram, Current Postcard, and many more. The iPost-a-card app is not only special because it's the only postcard app from Thailand, but it's the only third-party app that gets to partner with Thailand Post. Believe me, it's kind of a big deal to get to work with state-run offices in Thailand. And when I say "work with", I don't mean just as a vendor, but as a partner. If that isn't cool enough, iPost-a-card also offers a video function. Users can upload a 15-second video onto a postcard and the recipient can view it using a QR code printed on the card.
iPost-a-card is the result of a four-sided partnership – Thailand Post, a social media agency, a printing firm, and Codegear, a mobile application developer company. The interesting fact I took from this app after I talked to Chet Chetchaiyan, founder of Codegear, is that this project has no real sum of money invested in it. Everything runs on a partnership basis. Codegear takes care of the backend and app development. The social media agency takes care of all the online marketing. The printing company does all the printing and delivery is via the Thailand Post, who is in charge of branding and pushing the product out to the mass market using the Thailand Post name and logo. In terms of income, the four partners have their own way of dividing the revenue (which is undisclosed). But according to Chet, Thailand Post gets the most as it has to handle the cost of sending the postcards.
The app was first launched earlier this month at the Thailand World Stamp 2013 event, hosted by Thailand Post. Chet was at the event to learn how users feel about the app. He admitted:
There are still many bugs that we didn't know before, but users at the event discovered them for us. We will work on improving that. User interface is also our problem. Young people can use our app fine, but when we talk about the older generation, they have problems navigating through our app. We'll use all that feedback to improve the app. The newer and better version should come out in October.
A new feature that Chet plans to add to the app is a new badge system. There were complaints that using electronic postcards aren't stamped from the actual locations – instead they all get "Bangkok" stamped on them because that's where the printing company is. To solve the problem, badges that represent each province of Thailand will be added to the app so users can pick where the postcard is actually from.
(See also: Ready for your close-up? Here are 10 great selfie apps)
Target audience
The target audience of this app is tourists, both Thai and international. That's where Thailand Post plays the most important role. As the official postal service of Thailand, it will be promoting this service at every single famous tourist spot throughout the country. Chet explains:
We've found that sometimes tourists want to send a postcard, but they can't find one with pictures they really like. Now they can even send a postcard with the view of the tourist location and maybe with themselves in it. Then use the app to send the postcard right when they're still at the spot.
It costs 40 baht ($1.25) to send a postcard within Thailand and 50 baht ($1.55) to send one internationally. Users can also get a cheaper price when they buy credits (coins) in bulk.
There were over 1,000 downloads during the launch event. However, to create more awareness of the app, there will be advertisements on TV, radio, and PR at numerous tourists spots – with all the costs covered by Thailand Post. In the meantime, the the agency will be working on a free postcard campaign on Facebook, which is coming soon.
Chet is optimistic that if this app is successful, it can set a new standard for state-run organizations. They can partner more with third parties and become more active on the app space.
iPost-a-card is available for Android and iOS, but probably just in the Thai app stores for now.
(Editing by Paul Bischoff, Steven Millward, and Charlie Custer)