China's second largest telco China Unicom announced today it will offer packages for customers to receive a free iPhone 5S or 5C with a contract. The catch? The contract is three years long for a 5C and 30 months for a 5S, and you have to buy a high-end plan.
Unicom's slightly smaller competitor China Telecom announced the preorder of iPhones on its network before the devices were even revealed. Its prices are slightly cheaper. Details of China Mobile getting its first ever TD-LTE iPhone for the upcoming national 4G rollout are still unclear but expected soon.
Despite heavy criticism about the iPhone 5C not being cheap enough in China, the new contracts bring down the price to a nearly level playing field with Western countries, even if the plans cost more than what Chinese people are used to. Most Chinese data plans are cheap, limited to just 300MB. The more expensive plan required for a free iPhone offers roughly triple the data for triple the price. Will China Unicom and Telecom be able to lure more customers to its pricier packages for a three-year commitment?
I decided to do the math. Even though iPhones are much cheaper in the US, data plans are far more expensive (typically $60 per month). That means over the course of two years, the total cost of owning and using an iPhone is actually more expensive. That includes the price of the iPhone and what you pay over the course of two years combined. On the upside, contracts typically only last 24 months. Of course, buying any unlocked smartphone in the US without a contract is extremely expensive. See my infographic below for the breakdown.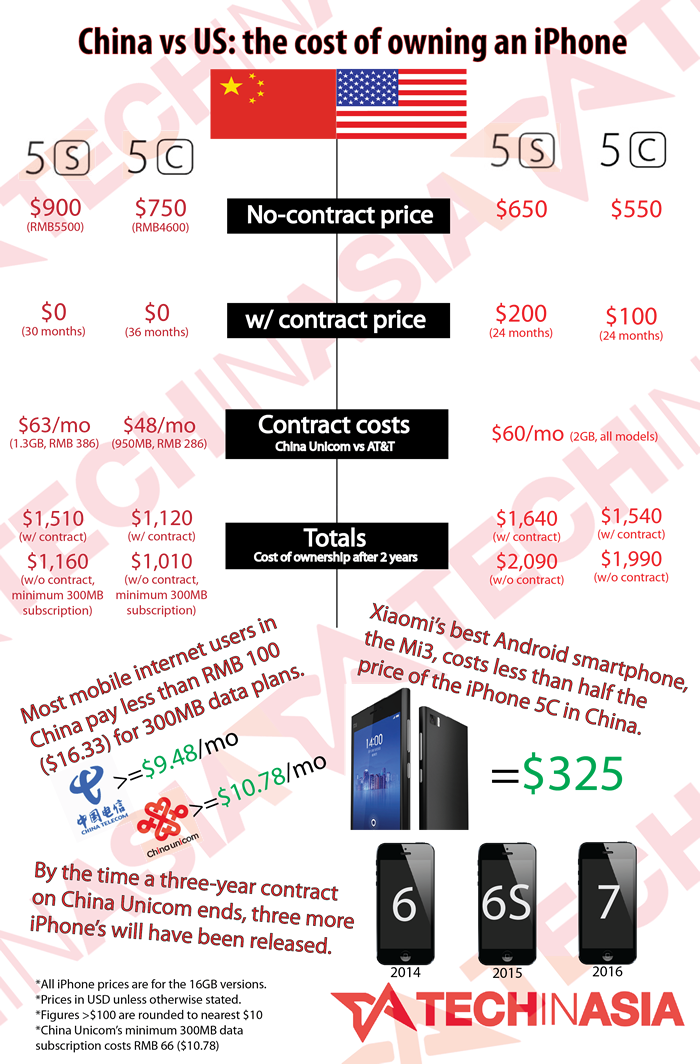 Hat-tip to Techweb (article in Chinese).
For more fun graphics like this one, check out previous entries in our infographic series.
(Editing by Willis Wee)