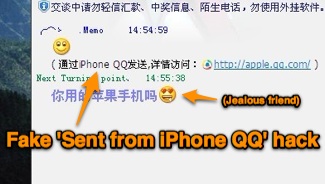 File this one under 'people are vain' and 'not great publicity for Android.' Some users of Tencent's (HKG:0700) social network and IM service, QQ, are paying one of several dubious hackers up to 8 RMB (US$1.25) per month to have their status messages appear with a fake 'Sent from my iPhone' or 'Sent from iPhone QQ' tagline.
The service is available only to Android users, as it requires usage of a modified version of the QQ for Android app which will transmit that fake tagline on your QQ IM profile, making it look to your friends (as pictured above) like you've bought one of Apple's popular smartphones.
Thanks to a tip-off from Beijing-based @Chassit, we've found numerous sellers offering this same service on the e-commerce site Taobao, such as here and here. The most popular such hack seller has sold this 329 times in the past month.
One vendor starts his sales pitch by saying:
The iPhone is too expensive and we do not want to spend all that money just to impress friends.
He/She then outlines how simple this hack is to achieve. You give the seller/hacker your QQ login credentials so they can change your avatar to have the little iPhone logo in it (pictured below) and alter some of the settings; and, secondly they'll give you a modified version of QQ for Android for your regular phone that will always display a 'iPhone QQ Online' or some such customized vanity tagline. And so, to your online buddies, you'll look like you're on an iPhone each time you use QQ on your Android phone.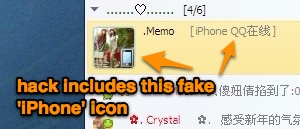 I think we're all hearing alarm bells ringing loudly right now at the prospect of giving a faceless hacker the login credentials to your favourite social network, to say nothing of the risk of using a tweaked app. Another such vendor addresses this by saying:
Our shop has paid the 1,000 RMB security deposit [to Taobao] so please rest assured about that.
And while it's true that all such consumer-to-consumer vendors have paid that deposit to Taobao, it's still insane to give out your passwords to strangers. Apparently the monthly fee is required to maintain all the tweaked settings and to get new versions of the hacked Android app.
We recently saw that, judging by web usage metrics, Android is twice as popular as Apple's iOS in China, but it seems that some folks still view the iPhone and the iPad as the ultimate gadget status symbols. And, as an Android user myself, that's quite a pity.