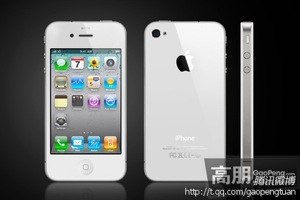 Last weekend's now infamous Beijing Apple Store incident was just one demonstration of how China's enthusiasm for Apple products can be difficult to contain. And now a social media campaign gone awry has one company apologizing after a pair of employees hijacked its own iPhone giveaway.
You've seen these campaigns on Twitter before: "Followers who retweet this message will have a chance to win an [insert awesome prize here]." It's usually fool-proof method for a company to gain more microblog exposure. But this week Gaopeng, a group-buying service run by Groupon and Tencent, demonstrated that if you aren't careful endeavors like this can turn into a public relations mess.
That's exactly what happened in this case. The campaign to giveaway 50 iPhones was promoted on both Sina and Tencent Weibo, but netizens became suspicious when the same two people (@lEXieyuanyuan and @nifengfeixiang86) were announced the winners on both platforms.
When news emerged that the two individuals were actually Gaopeng employees, the company released an announcement:
We have found that some individual employees had taken advantage of the lottery… Gaopeng has already fired a vice president in charge of the lottery… and we will offer another 20 iPhone 4s in the lottery to compensate our followers.
Gaopeng even went so far as to fire a vice president in the wake of the incident. Another Gaopeng representative expressed 'sincere thanks to our netizen friends and the media for paying attention to and reporting on this matter' and adding that the company 'will not disappoint expectations, and will continue to deliver outstanding goods and services to everyone.'
We'll have to wait and see whether this incident has any long-lasting impact on Gaopeng's reputation. I expect that the public will probably be somewhat forgiving in this case, given that most of them would probably go to great lengths for an iPhone as well.