US-based mobile photo viewing and sharing app Cooliris announced it's making further headway into the Chinese market today by partnering with Chinese search giant Baidu (NASDAQ:BIDU). Cooliris will be the first foreign company with full access to Baidu's full API suite and 100 million MyCloud users, giving Cooliris users a new cloud solution for storing their photos.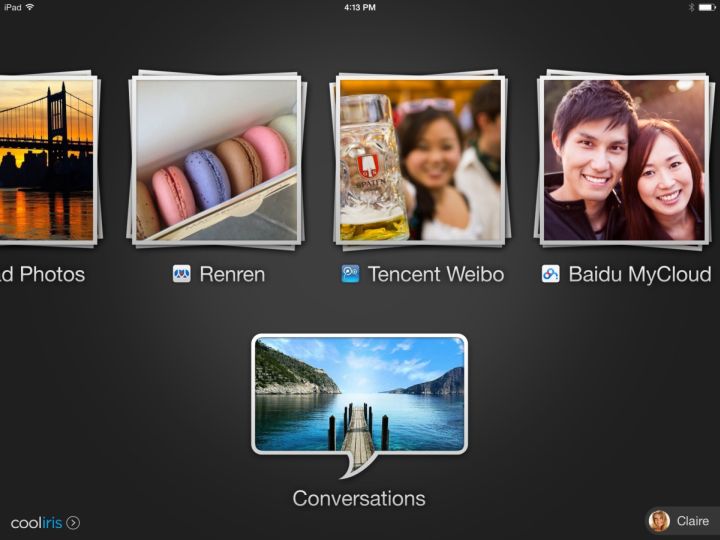 In the American version of the app, storage has been available for some time on Dropbox, Google Drive, and SkyDrive, but the two former services are blocked in China. Other integrated-but-censored sharing options on the app include Facebook, Twitter, Flickr, and Picasa.
As far as Chinese social media, Cooliris currently integrates with Renren and Tencent Weibo, but has still not sealed the deal with Tencent's WeChat messenger or the Twitter-like Sina Weibo. Cooliris team member Derek Tan says:
Thru our partnerships with Renren and Tencent, that initial traction led to tremendous combined growth with over 50 times increase in user acquisition in China. These downloads propelled Cooliris to reached a top 10 ranking app for Photo and Video in the iTunes App Store.
(See also: Cooliris Partners with Tencent in China, Adds Weibo Integration)
Cooliris won't disclose its active user number for China yet, but says 30 percent of its downloads come from Asia with China leading the way. The startup is still trying to gain more traction and is not monetizing yet.
Cooliris is available for iPhone and iPad on the Apple App Store. An Android version is expected eventually.
(Editing by Anh-Minh Do)