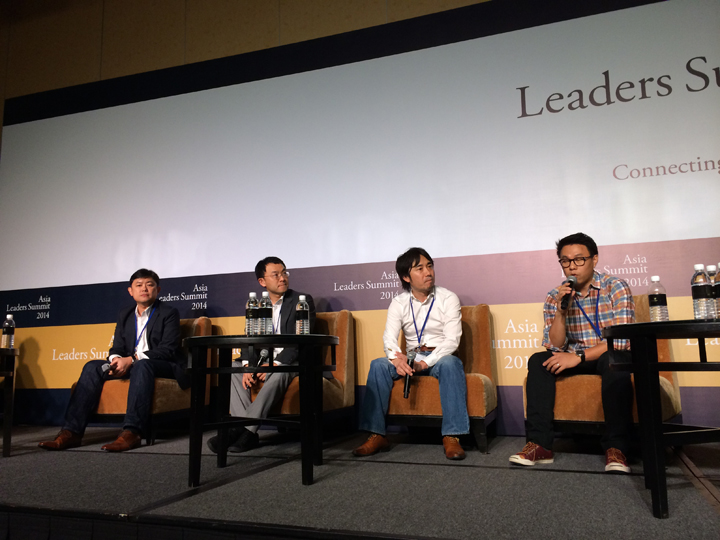 At Asia Leaders Summit 2014, four investors came together for a panel titled "Navigating investment landscapes of Asia." They are (from left to right):
Here are the highlights on what these investors have to say:
First question was shot to Kitagawa, asking about China. He says that China and Southeast Asia have not much differences. The Chinese market is obviously bigger and startup valuations are higher but that's about it.
Cuaca talks about Japan and Indonesia. When asked why East Ventures targets Japan and Indonesia, he says it's because of timing. Both markets are rising and the founders of the fund understand both markets.
Softbank Ventures invested in Tokopedia. It's the first investment in Southeast Asia and it took two years for the first investments to happen. Kang says that investing is a local business and believes that there are more opportunities in Southeast Asia.
Lim says that in the early days, Singapore has a lot of early stage funds. Not many startups in Southeast Asia are available for Series A. He says that VCs are in the service business with startups as clients. So the clients have to be ready before the VCs come in.
Why Southeast Asia?
Ebihara asked the panel, "Why is Southeast Asia your focus?" Cuaca said that Southeast Asia has a big population, about 600 million. He believes Indonesia is like China in 2009 and is seeing the same growing trends.
Kitagawa agrees. Softbank VC entered China early (note: Alibaba is one of its portfolio companies) and hence experienced the boom of IT industry. Kang believes that timing is ripe now. Lim agrees on the above and added that Southeast Asia is a tough market. Whoever can crack this will build a great company.
What's the problem in Southeast Asia? Cuaca says talent is the biggest problem. From a VC's perspective, Kitagawa says that exits are harder to come by. Exits will create a better image for Southeast Asia, showing that there's business here which will eventually attract more players with financial capital to invest in this region.
Which country are you most bullish most? Cuaca voted Indonesia. Kitagawa voted China. Kang prefers regional player with big ambitions in Southeast Asia. Lim voted Indonesia and Singapore, but said that Philippines has a lot of potential because of its talents and culture. That said, Kitagawa says that it is getting easier for local internet companies to expand quickly across different countries, which will give any company the opportunity to reach 600 million people.
What type of founders do you like? Cuaca believes overseas educated returnee founders are of better calibre. He also likes founders with integrity and honesty. Kitagawa prefers founders who have past experience building startups, whom are rare in Southeast Asia. Lim likes founders who have both local and global thinking.
Ending this live blog with some fun questions asked by Ebihara:
Which deal will you pick, Viber-Rakuten or Instagram-Facebook? Lim and Kitagawa picked Instagram. Kang picked Viber.
Will Bitcoin take off? Cuaca and Lim said no, Kang and Kitagawa said yes.
How many excellent founders, in your opinion, are there in Southeast Asia? All of them say there are about 100.
That's a wrap!
(Editing by Terence Lee)