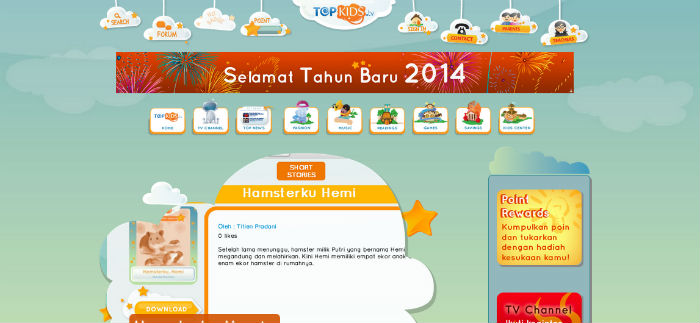 In Indonesia, it's hard for parents to find a good place for their children to watch age-appropriate programming unless they subscribe to cable television. They might find something on YouTube, but it can be a dangerous place for children. You never know what random video a children might click. The lack of child-specific content on the internet and high internet penetration in Indonesia has created a niche for Topkids.tv. The online portal launched in August 2013 and has since accumulated 4,000 members with 300 unique users each month.
A variety of content loved by children
Inside this online media, children ages eight to 12 can explore features including a TV channel, news, fashion, music, reading, saving money, games, and a database of elementary schools throughout the country.
The TV channel offers children-friendly music videos, video coverage of events, vacation stories, and child celebrity updates.
Children can also read a variety of educational material about science, technology, and health either in the news section or in the 22 free e-books available for download.
For games, Topkids.tv is collaborating with Spilgames, a Netherlands-based game company, to offer more than 50 free-to-play chidren's games including puzzles, racing, sports, makeovers, and adventure.
In the music section, children can listen to songs or compose their own. This is also a great platform for child singers to promote their songs. On Indonesian TV nowadays, there are no shows that promote children's music.
Challenges, weaknesses, and competitors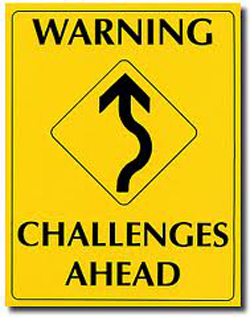 At first, the biggest challenge was to set their target audience and to learn about children's behavior (age eight to 12) when using internet. To make the site a top brand for Indonesian children, Agung Setiawan, the COO of Topkids.tv, told us that they need to have the right marketing plan and not overspend on it. Building a great team who believe in the company's goal is also something really important.
Another challenge has been to create the correct mindset within the editorial team. They need to abandon the conventional content model, since the readers' behaviour for print media and online media is different. And since this is for children, they have to make sure that the contents are age-appropriate and easy to digest.
Topkids.tv has no competitor in the country with the same TV or video content, but Setiawan mentions that Indonesia also has Kidnesia, another children's online portal (which is actually a digital magazine), and the Takita app for children. All three have the same target audience, but with different content.
Monetization and future plans
Setiawan says that it is working with brands and advertising agencies for ad placement and offline collaborations to help brands with their marketing campaigns through events.
Content-wise, everything is produced by the Topkids.tv team (except for music and games). The team will invite talented children, child psychologists, parents, and teachers to contribute to the materials and educate its users.
Topkids.tv is run by a seven-person team and was created by ASM Startup under Upnormals Group.
(Editing by Paul Bischoff and Terence Lee)