Meng Weng Wong, a serial entrepreneur, founded JFDI with Hugh Mason in 2010 with a vision of nurturing the untapped entrepreneurial talent in South-East Asia. You just have to spend 15 minutes with Meng over a glass of wine to realize how imaginative, passionate and dedicated he is about this mission. His dreams are gargantuesque in scale, but, at the same time, concrete and actionable.
After graduating from UPenn, Meng spent his early career in the United States  at pobox.com, where he helped to pioneer email by building the foundations that Hotmail and Gmail are still using today. He also co-founded Karmasphere, a big-data company.
Helping to create an innovation ecosystem from scratch, like Meng is doing at JFDI, takes guts and inspiration. It's an important task: High-tech entrepreneurship, especially in ecosystems that don't have a legacy of successful startups and communities that inspire, teach, and support, can be difficult.
Silicon Valley literature often takes it for granted that the same conditions there apply elsewhere. But the obstacles — often times emotional and personal — in countries that don't have a multi-decade legacy of entrepreneurship are often much greater.
In this context, I asked Meng a few questions over wine and cheese, favorites of his. He spoke about the challenges to build a high-tech entrepreneurship ecosystem in Singapore.
Now you're at JFDI after a long track record of entrepreneurship in the United States. It must be challenging to mentor entrepreneurs across APAC with different cultures, goals and aspirations?
There's a huge opportunity in Singapore. I have spent half my life in the US, doing open-source Silicon-Valley style "kinda" stuff. That culture is missing in Asia (and in many parts in the US as well) for many reasons. Silicon Valley is the only place where you can go to a café and get help on your term sheet (As a side note, you must go to University Café or Coupa Café in Palo Alto to have a glimpse of this).
I blame the education system for not teaching kids how to start up a company well the first time. School prepares you for something different, more relevant for the corporate world. Entrepreneurship is different. You're inventing and discovering new problems. You're not taught equations for which you get an 'A' that you display on your wall. Creating a product requires a different mentality.
I want to bring some of that culture in South-East Asia. Here, people don't reach their full potential as human beings. Entrepreneurship is just one path towards this. It's about being authentic. In the US, people are taught about passion and doing stuff that you can do to improve the world.
Over here, parents want their kids to go into finance and other well-paying, secure jobs. You just need to hang out at Block 71 to get more inspiration. At JFDI, we're here to help those with ambition to break out and do their own thing.
How do you view Singapore as an ecosystem and how do you want to make it better?
I'm optimistic about Singapore because it is run by geeks. This is a country, where at the end of the day, logic prevails. When faced with an issue, people here act rationally by investigating solutions and wanting to do the right thing for the well-being of all. Other countries are tied up with the weaknesses of their system.
Singapore is the "capital" of South-East Asia, the same way New York and San Francisco are the "capitals" of the United States. Therefore, many of the best people want to be here.
At JFDI, we like to take advantage of the talent from all over South-East Asia and help them grow close to their full potential. We like smart people who want to build things here. We make products and services for the poor and rich in Asia.
In South-East Asia, each country has a different language. The cultural diversity is fascinating but can be a challenge at the same time as the entrepreneurship know-how is in English. As an analogy, the language of philosophy used to be German. The language of the educated used to be Latin. If your English is not so good, it is very difficult to have the necessary base knowledge to be successful since most of the leading entrepreneurship literature is written in English.
At JFDI, we're sponsoring the translation of much of the entrepreneurship literature in other languages to spearhead entrepreneurship all across Asia. This way, we will help to unlock human creativity here.
This is part one of the interview. Part two has been published on Yvan's blog, Entrepreneurship for the World.
About this author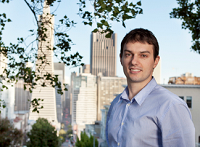 After spending 10 years in Canada and Silicon Valley as a high-tech entrepreneur at Newtrax Technologies and People Power Company, Yvan Castilloux wanted to learn more about the world and so pursued an MBA at INSEAD, which has campuses in Singapore and France. He recently took up his first corporate job as a business manager at PayPal Singapore.