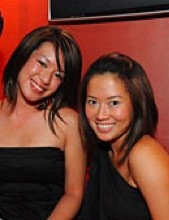 Jamie Koh and Cherilyn Tan of The Chupitos Bar are one of the top 10 finalists of the Martell VSOP The Ultimate Start-Up Space challenge. Here, they share their idea, how it originated (while backpacking!) and why they think they should win the competition.
(For a quick overview of the prizes the ultimate winner stands to gain, read this.)
Describe your idea and how you think it stands out from all the finalists.
Our idea is a bar focusing on SHOTS. We plan to offer over 200 one-of-a-kind shots, and each shot will have a unique twist, ensuring that you will not find these shots in other bars. Candy, fire, props and tricks will be used to give our guests the ultimate shot experience!
A specialty shot bars would be a great fit for Clarke Quay, as it is a fun and entertaining idea which will add to the vibrancy of the area.
[View their 60-second video submission for TUSS.]
How did you come up with this idea? Did you already have this idea before hearing about this competition?
We came up with the idea backpacking together, way before the competition. We wanted to start Singapore's first shots bar because we've sampled a variety of interesting shots on our travels, and have always felt that Singapore needs to have a bar that offers not only a wide range of shots, but more importantly, innovative and exciting shots. The moment we heard about this competition, we knew that our idea would be a great fit with the space in Clarke Quay.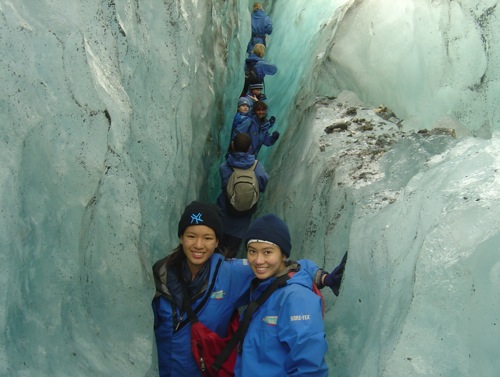 From left: Jamie and Cherilyn at Franz Josef Glacier, New Zealand.
Why do you think you should win the top prize for The Ultimate Start-Up Space?
We should win because the idea fits The Ultimate Start-Up Space to a T. Not only is it relatively straightforward in terms of its implementation, our start up cost is also minimal. We are confident that the business will be sustainable in the long run.
Also, we are dedicated to this business and have enough determination and drive to see the idea through.
A business does not stop at conception. We are confident that our team can bring the idea to life!
Tell us your team's background and what you are doing now.
Jamie just moved back from the States where she was previously working in Market Research Consulting. It has always been her dream to start her own F&B outlet, and she has been working steadily towards that goal. She graduated with a business degree from Emory concentrating on Finance and Management, and to show her commitment to The Chupitos Bar, is currently pursuing the International Bartenders Association's Certificate in Bartending!
Cherilyn is a design consultant and founded a consulting firm, after gaining exposure from her involvement in her family business. She graduated with an accounting degree from SMU.
If you win, tell us your plan moving forward to turn your idea into reality. And would executing on this idea be a full-time commitment on your/your team's part?
Our plan would be to get it started quickly while ensuring that everything is in place for the business to ROLL!
On top of a business plan, we have already spoken to several architects, renovators, and people in the industry. We have also contacted suppliers, interviewed bartenders and found some talented people interested in working at The Chupitos Bar.
The execution of this idea would definitely be a full-time commitment to ensure maximum success and we are ready to plunge into this full- time to make Chupitos work.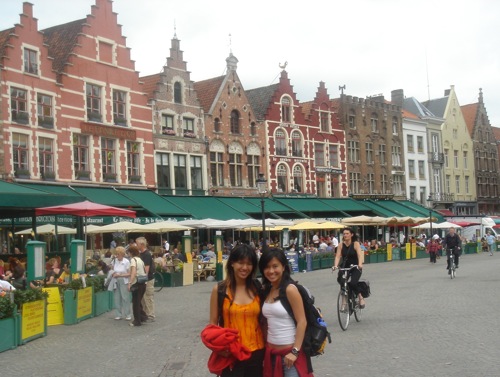 From left: Jamie and Cherilyn in Brugge, Belgium.
If you don't, what are your plans then?
It would be a shame, because it would probably be difficult to replicate the idea at another location in Singapore. Clarke Quay's crowd and its high concentration of bars makes barhopping ideal and would be a key factor in the success of Chupitos. No matter what happens, we would definitely pursue the entrepreneurial route. Although we are trying not to think about losing at this point in time! =)
Do you think the space offered at Clarke Quay by Martell VSOP is a differentiating factor for your idea's success? Why or why not?
Yes, we definitely think so. Our idea is built upon the space at Clarke Quay since we believe that it is vital to our bar's success. The layout of the space as well as its size is perfect for our idea. The location is also ideal because it captures our target market perfectly.
Thanks, Jamie and Cherilyn. All the best in the competition!
The Chupitos Bar can be found on Facebook and Twitter. You can also check out their radio interview.
Update: The Chupitos Bar won!
Read: 8 Tips to Setting Up Your Food and Beverage Business in Singapore
Check out all our interviews with the TUSS finalists: