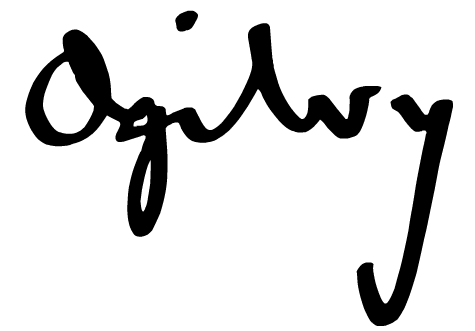 Being able to learn from people who have been there, done that is a privilege.
Today, we are really lucky to have Tania Chew and  Patricia Law, digital strategists on the 360 Digital Influence team at Ogilvy Public Relations Singapore to share with us their experience in the scene.
1. Hey Pat & Tania, just for a start.. (and for the curious peeps out there) what exactly do you do in Ogilvy?

Pat and I are part of the 360 Digital Influence consulting team that sits within Ogilvy Public Relations. If PR = Public Relations, then Digital Influence is about "people relations". It might sound similar but I like to think that we approach communications differently, with a focus on the customer first and conveying information in an open, transparent manner that helps drive word-of-mouth.
I think it's back to basics really, because in the digital age, power has shifted back to the consumer and brands simply need to recognize this and reach out in realspeak. And yes, that does mean that we get to tweet, blog and Facebook daily as part of our job

Influence marketing focused predominantly in the digital space. I use the term digital as opposed to social media because the latter suggest that it is an inventory of which can be sold like traditional media does with advertising space. The notion of selling conversations by influencers for their readers is absurd if not arrogant.
"And yes, that does mean that we get to tweet, blog and Facebook daily as part of our job."
–

2. Qualities/habits of a good PR rep?

Any PR person worth their salt (in my book anyway), is first and foremost an excellent listener. Too many folks these days get caught up in talking first (and talking a lot) and don't really pay close attention to what the problem really is. Or they're too eager jumping when a client says "jump" to take a step back and question what is being asked and why.
Anyone can learn to write a standard press release, organize a media briefing and churn out media monitoring reports but a solid communicator has an innate knack for taking in a situation, reading beyond what's being said and coming up with a big idea or counsel that delivers real value to the brand and its audiences.
And a big idea does not equate to some contrived PR stunt either. And I have very little tolerance for PR people who mass-mail copy-and-paste long-ass pitch emails with multiple attachments. That's spamming. Solid communicators get straight to the point and tailor every single outreach to be personal. That's why it's called an angle. Pat has some good advice in this blog post of hers.

The most important quality anyone can have, regardless of profession, is Respect. Respect for clients. Respect for colleagues. And above all, Respect for Self. If your name is on a project, you be sure to give it your heart and soul because at the end of the day, you're only as good as your last project.
No one cares about your summa sum laude from Harvard as much as they do the ROIs you've promised.
On a technical front, I can't answer for what makes a good PR rep because I came from the ad world of Publicis, TBWA and Leo Burnett/ Arc Worldwide.  That said, the qualities and habits of a good communications person is universal, and they include:
• Going above and beyond to be the client's wife/ husband
(Read more here)
• Asking the right questions for the right reasons
(Read more here)
• Thinking and behaving like a doctor would with his/ her patients. They do not prescribe anything the clients do not need. Just because we're in the department that 'sells social media' doesn't mean we'd sell it to someone who doesn't need it.
• Aren't cocky. Interestingly, the ones I've seen who are cocky are often the minions of the Industry. I suppose when you've already done 200 campaigns, won a Cannes Gold Lion or two, you'd be self-assured enough not to bother to be cocky.
• Constantly criticizing one's own work. For every idea I've came up, I've probably shot down at least five others. The communications people I've seen with the best ideas are often self-criticizing perfectionists who can't help themselves from self-inflicting pain.
And like Tania has already said, listening is key. The best ideas are inspired by and born from the result of listening.
"The most important quality anyone can have, regardless of profession, is Respect."
–
3. What is the most kick ass campaign you have done in Ogilvy?

I'd say the Intel/TANGS/Lenovo blogathon was our most kick-ass campaign to date. The wrap-up video is here and sums it up nicely:

I agree with Tania – Intel blogathon was probably the highlight. As idealistic as this sounds, I think it became a campaign beyond the brand, into a campaign for the nation. It showed the rest of the world what Singapore was capable of beyond a blogger event with 20 bloggers and a couple of limousines. I'm still stoked over the fact that the big boys from WordPress.org featured our blog.
4. What are the differences between offline PR and digital PR? Tips please!

I actually prefer not to draw lines between offline and online PR. For me, it's about communicating plain and simple. It's about understanding where your audience is, listening to what they're saying and giving them something that they will want to talk about.
So whether that audience is a journalist, blogger or brand fan, these same basic principles apply. The only difference is that with broadband and new technologies such as social platforms for sharing, communicators need to fast-track their understanding of new spaces and channels in order to stay relevant.
"Online PR" is merely an extension of what we already know and are doing as communicators in a once-offline space.

One key difference: Speed. Everything's a hell lot faster online.
"Online PR" is merely an extension of what we already know and are doing as communicators in a once-offline space."
–
5. It is often said that westerners are more open to social sites than the east. What do you say?

The west may have started with social media earlier but no way is the east less inclined. I've attached a couple of stats that prove this.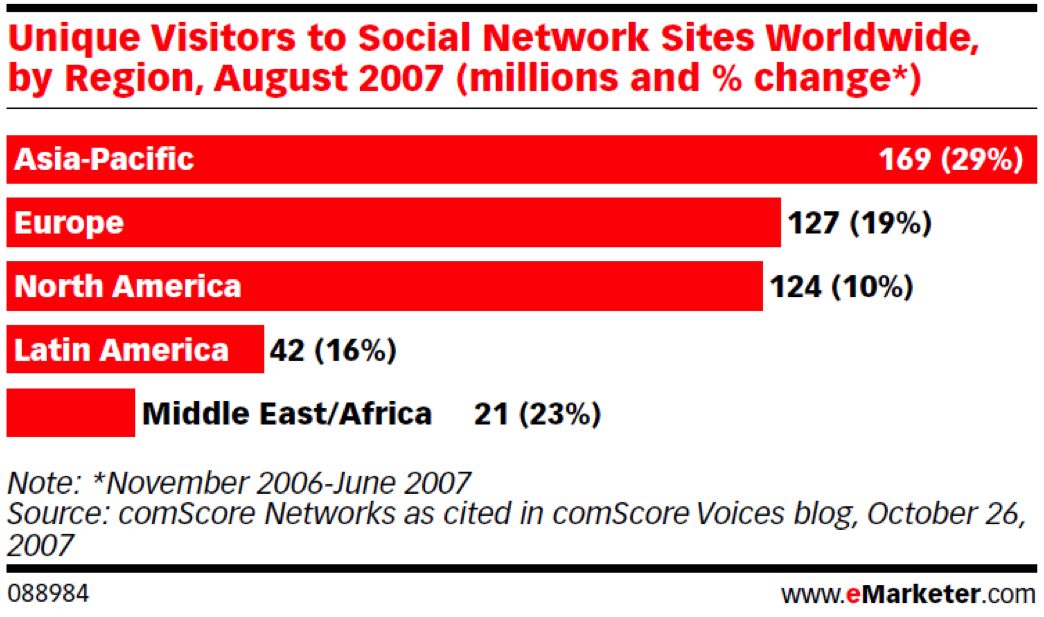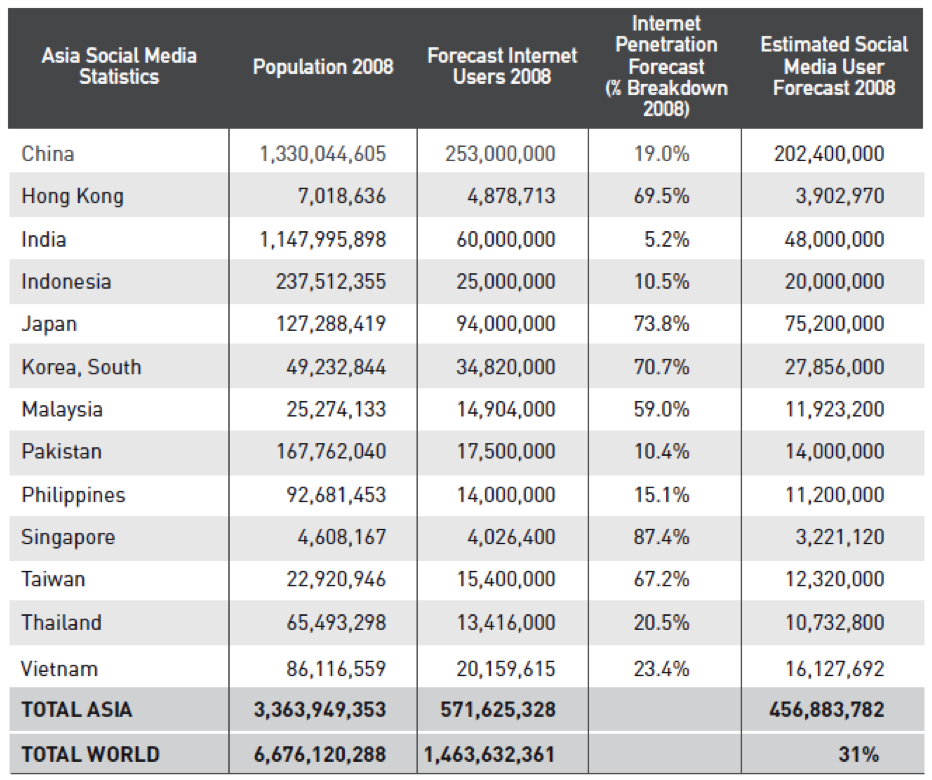 I say whoever that said that hasn't got much of a brain and suffers severely from myopia.
6. Know of any WOW Social media campaigns in Asia/Singapore? (hope there's an answer to this!)

One recent WOW that I came across was HP's "Power to Change" campaign on Facebook. I like that it's got a good premise and great content that naturally makes people want to engage/participate.

Not to belittle my own country but because the social media campaigns that do make my jaws drop are of this standard, I would say no.
We're not remotely close to any level of creativity these people have, sorry to say. I'm not saying that we haven't got the capabilities to do so, but realistically, unless you're the global hub for a brand where the absolute budget is in your hands, there is only so much that can be done with a limited budget. Everyone can dream for the skies, but not everyone can afford to buy up Heaven if you know what I'm saying.
7. What would you tell people using social media for their business?

Don't jump on the bandwagon and think that Facebook is the answer to all your social media prayers because it's the only buzzword you know. Without proper planning, you're almost guaranteed to fail. Going social isn't rocket science but social media is NOT a silver bullet that is going to solve all your problems simply because you have a blog or Twitter account.
There are many factors that come into play: having great content, knowing who your audience is and what they're saying, having a great product/experience that puts the customer first, aligning your social media activities with your business goals, and not being afraid to be honest and transparent.
There are too many purely promotional or contrived attempts out there that fail to take into account one of the basics: social spaces are multiway communication spaces. Go in with a loudhailer and push-only messaging…and you're doomed. And your agency cannot be your social voice. They can counsel and develop the strategy but a brand's voice is something that has to come from within. So companies need to recognize that they have to invest in having internal social media champions as well.

Go figure out your marketing problem before you self-prescribe a solution. Do not assume social media is the solution until you diagnose your marketing problem properly.
Whilst you can afford to be campaign-specific with conventional communications where its acceptable to go "hi and bye" with your audience, social media communications does not allow you to do that. If you're going to be on Facebook, Twitter and what not, you need to be there 24/7 to cater to all the conversations that are happening around you, and about you. It's like marriage – if you're not ready for the commitment, don't say "I do".
It's like marriage – if you're not ready for the commitment, don't say "I do".
–
8. Lastly, we want to know what social media means to you in 140 characters!

Approach social media like a real person, not an advertiser/marketer. Listen 1st, have great content that engages & make sure u participate!

The broth of the ramen soup holding various ingredients of communications in a single bowl.