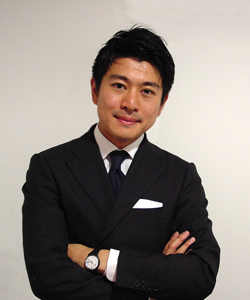 Building products based on user feedback — Thanks to the internet and social media, this concept of product development is no longer new. However, its execution can be far more difficult than imagined. Cuusoo.com (Cuusoo is a Japanese word that translates as 'imaginary' or 'wish') was launched in 1997. Essentially, it is a platform that collects product ideas directly from users, based on what kinds of goods they would like to see produced.
The company currently manages two platforms, Cuusoo MUJI and Lego Cuusoo. There are about 340,000 active users and 90 percent of Lego Cuusoo users come from overseas. To find out more exactly what these platforms do, we chatted with the founder of Cuusoo, now the chairman of Elephant Design Inc., Kohei Nishiyama.
Kohei talks about being active in seeking out developers and often meeting up with talented people surrounding startups. As he looks back on the time when he launched Cuusoo, he spoke about how startups should be launched:
Don't start something just because you think there is a market. When you're building a product for the first time, you yourself need to be the biggest customer and fan. It is too difficult to build something based on what other people say. So a shortcut to build a successful product is to make something you would use, to make something you want. It's okay to get users' opinions and then afterwards structure your service around that. It's risky to make things while listening to people's opinions during your launch. I think you should startup with the idea that you are your own customer without listening to others during this time.
Cuusoo, Lego Cuusoo, and Cuusoo Muji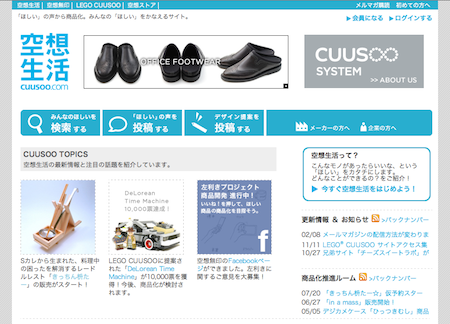 There are about 340,000 active users of Lego Cuusoo and Cuusoo Muji. The concept of Cuusoo.com is to make a product that people actually want. Cuusoo.com has a long list of people's wishes that have been accumulated over the past 15 years. Kohei would pick up interesting ideas with huge demand from the list and create the actual product with help from smaller companies with technology. An example of such a product is the Window Radiator developed by Morinaga. The product stops cold air coming in from windows, and it also increases heating efficiency resulting in less condensation on glass windows. The product is made of elastic in order to adjust to all sizes of windows.
Other popular products include a "smart wallet" (a wallet that never gets bulky) and office footwear that looks like dress shoes from the front but are actually comfortable sandals. All of these products were commercialized based on the opinions of users.
Cuusoo Muji is an online community that lets users submit ideas for products they want the retailer Muji to make. Currently, there is a project aimed at making life easier for the world's left-handed people, which is a good example of what the crowdsourced ideas come up with. The biggest hit product of all is a sofa made of beads released by Muji back in 2002.
Lego Cuusoo is jointly managed by Lego and Cuusoo.com. Only six percent of the users are Japanese, and 94 percent from overseas, with Americans accounting for 46 percent.
Lego fans make their ideal Lego creations and submit them to Lego Cuusoo. If an idea gathers over 10,000 supporters, the project is passed on to Lego staff and the project then heads toward production. Candidates for commercialization appear at a pace of about one per week. If all problems such as rights issues are properly addressed, the product is released in about four months. The creative team at Lego can only come up with a certain amount of ideas, so the Lego Cuusoo platform allows Lego to create more products by feeding on the ideas of true fans.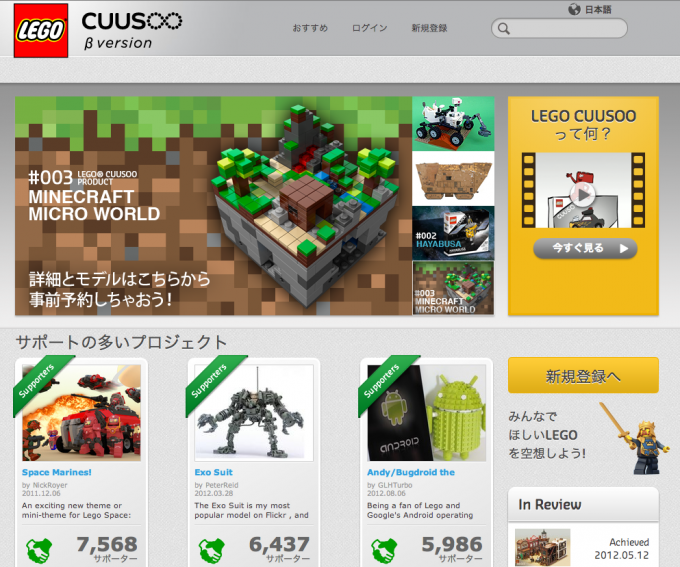 3 important points in getting user feedback
With social media such as Twitter and Facebook, it is now a lot easier to gather feedback, opinions, and crowdsourced ideas from target users. There are ever more examples of startups and companies involving users at the very first stages of the introduction of a new service. At Cuusoo, they refer to the motive behind purchases for the things people decide to buy as "intent." Through the gathering of these various scattered intents, as well as the process of using them in the commercialization of their products, they came across an important point: Be a user yourself but know when to take a step back.
As said before, Kohei has said that the most important user for starting up in-house manufacturing or a service is you yourself.
When trying to find the timing for starting up a service, listening to the opinions of your users will lead to instability or a lack of focus. What is important is to understand to what extent you should stand at the vanguard. Entrepreneurs must understand that being a user of their own platform means that you will start viewing your service from a skewed perspective and lose objectivity. Kohei explains:
In the 10 years since our platform was started, I had decided not to be involved in Cuusoo in a public space. When starting up a business, having a company president with passion is a good thing, but if this trend continues as the business grows, it leads to a company that only makes things the president wants. When you're a startup, it can't be helped as you don't have any users, but as a company gets larger, they then start to ignore the opinions of their users. Understanding this timing is extremely important.
Involve users and innovators
In a 1997 interview with BusinessWeek, the late Steve Jobs left us with these words: "A lot of times, people don't know what they want until you show it to them." Is it true that people – especially consumers – don't really know what they want? Kohei adds:
There are users who know what they want and make it themselves. Among users, there are those who have dissatisfaction with the status quo and ideas for improving things. I think it is a good idea to engage those users and innovators when in the process of developing new products. He is establishing a business that relates to those ideas. The question is how do you find and then involve those people?

The problem is after he's solved the problem. After that, is it right or wrong to make him powerful and leave him in higher position? Because if you do, the company will become an engine that creates anything he says. You find a lead user with the ability to properly and appropriately fix the problem and dissatisfaction, and give him or her authorization. The timing is essential.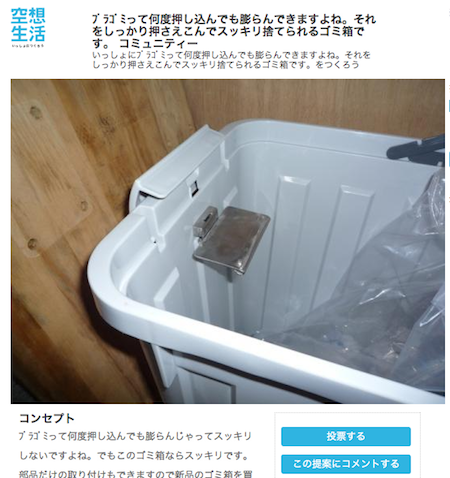 Don't listen to just the words of users. Words and photos should always be paired up when getting user feedback. Kohei says that many Japanese products are built on wrong assumptions and misread data. It's too risky to listen to just the words of users. Whether they are tweets or posts on Facebook, they are only what you hear. They are just words – so it doesn't matter how much of them you collect, it doesn't really mean anything.
Users lie. They are not deliberate lies, but there is always exaggeration. What's important is not the user's feedbacks but the usage of products. How is it being used? Always ask, what do they mean? In order to confirm the lying problem, we take photos. Words and photos should always be used together to clarify where the needs are. There is a big chance of failure if you only listen to the words of users.
And, since it's possible for the context to change, I don't recommend getting opinions from a variety of places like Twitter, Facebook and other communities. It's important to look with your eyes at how and where users are using something. If you can't do that then pictures will certainly suffice. You should also be careful about carrying out a set number of surveys by hand. Kohei tells us:
For starters, if your friends do it then they might be doing it out of some sort of obligation to you. And the people who take the surveys are quite different than the people who make decisions. If I need ten answers by tomorrow then I'll ask my friends and I get that 80 percent of them are satisfied and make my decision based off that. It could be that people who have never used it wrote down comments. That's why relying on just your ears is risky and not something I recommend.
Co-existing with crowdfunding platforms
What's the difference between crowdfunding sites like KickStarter and Campfire and Cuusoo? After all, they're all sites where businesses can fundraise from supporters in order to turn things that users want into a reality. Kohei has of course thought this through:
We are rivals and I definitely think that we should learn from them. If I were to draw a line, crowdfunding is where funds are put in to start up a business, whereas we work as an advanced booking platform. The concept itself is different but both collect money and make bookings based off promises to make a trial product, then later contract with a manufacturer to keep it going, which I think is a good way you can tie things together.
Among Cuusoo.com users, there are people who use both systems; they collect reservations on the platform and collect funds through crowdfunding. They earn money by selling on Etsy the things they mass-produced by hand and use Cuusoo to collect reservations in order to produce them. They use KickStarter for fundraising in order to make that trial product. Users can't help, but to use social platforms and use them only as a module.
Social media plays an essential role as well. Lego Minecraft is a good example of this.
Minecraft is an online game about placing blocks to build anything you can imagine, and some of the themes were produced as a Lego version – thanks to Twitter. It's an example of friends who play games online collecting 10,000 people and commercializing them. And since they wanted everyone to vote, they collected votes through tweets. The main reason they had such a big success in commercializing their product was not simply from Cuusoo but by using it together with other social media.
Going global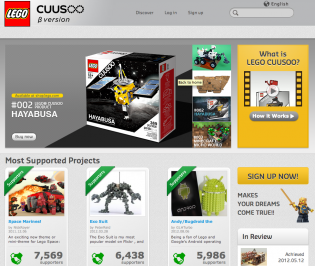 The present goal of Cuusoo in its fifteenth year is to be a success overseas. Kohei says there are big differences in organization and functionality because the targets domestically and abroad are different. He omits many features in his overseas editions and he doesn't even use 1/20th of the technologies he has.
For example, the function that describes what is wanted in a text is called "Everybody's Voice." Even though the main Cuusoo site doesn't only use this, it equally starts from the main Cuusoo site and voices. In contrast, most overseas Lego Cuusoo users are dropping this function entirely. In the end, do the people who make it themselves not want it? Following the figures collected from a suggested survey. The Japanese version was overkill in some respects, so it is being cut back when offered to overseas markets. Some ideas are coming to light in reverse by cutting back.
It is unprecedented to see successful Japanese social services in the international market – except Japanese games. What we are aiming for is that type of social service. As of June 2012, half of the users who are using the Cuusoo are foreign. 90 percent of the users of Lego Cuusoo are overseas. Even so, I want to make the service even more popular overseas. For example, we are thinking of making the API public and making it easier to connect to a service like KickStarter.
---
This article is a translation from a Japanese language article that appeared on startup-dating.com on August 28.