Nitin is a senior manager of business development at SingTel-SoftBank InnoVentures.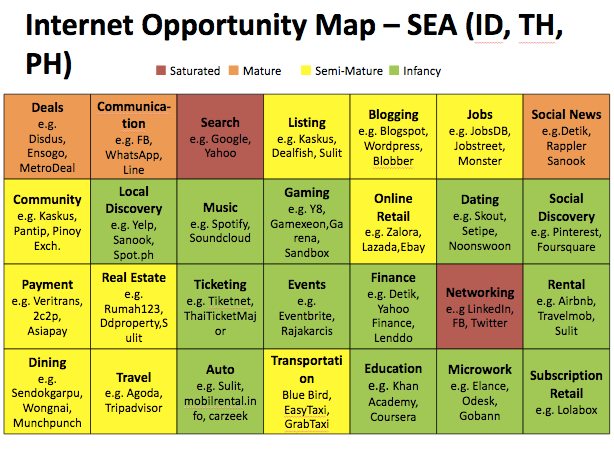 I was inspired by Ron Hose's Philippines startup report and decided to work on a high level Internet opportunity map for Southeast Asia. The countries included in this study are Indonesia, Thailand and Philippines. I hope to add Malaysia and Vietnam in a later update.
Since there has been a lot of discussion about looking at Southeast Asia as a whole, I thought it became necessary to understand the opportunity landscape at the regional level. This map serves as a starting point for early stage entrepreneurs who are trying to figure out what to build. The good news is that most areas are at an infancy to semi-mature stage, offering an immense opportunity for entrepreneurship in Southeast Asia.
I reached out to my business network in the above countries to rate each of the Internet categories on a five-point scale – Saturated, Mature, Semi-mature, Infancy, and Non-existent. The ratings given by venture capital and Internet industry experts were country-specific. The individual country ratings where then combined (weighted average using population and GDP per capita) to get a Southeast Asia level rating.
The scores for each of the countries were based on top of the know-how of the experts and the averaging does not use other relevant influencing variables like internet, credit card, or smartphone penetration. In other words, this categorization is more of a first attempt to develop a general idea of the opportunities.
Entrepreneurs should try to identify the large pain points that customers in their markets need solutions for based on these categories. The categories should also help entrepreneurs figure out where a speedy adaptation of a successful business model and product will happen for this region and what is unlikely to work.
The views in the article are mine and do not reflect my employer's opinion.
(Editing by Terence Lee)