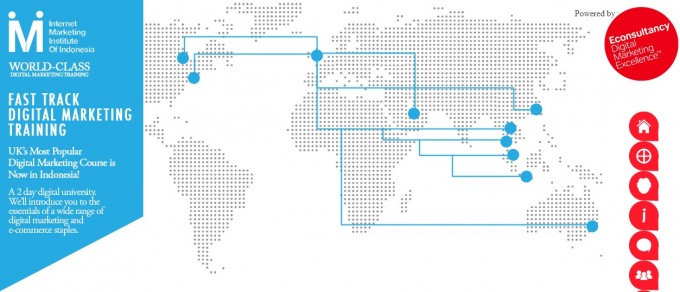 The UK-based digital marketing and e-commerce community EConsultancy, together with Indonesia-based digital marketing company Techad 1, wants to grow Indonesia's marketing talents through a local digital training division called the Internet Marketing Institute of Indonesia (IMII). In three weeks' time, IMII will hold its first fast-track digital marketing training course in Indonesia. Here are details:
Date and time: January 30th and 31st, 9am to 6pm
Venue: The Energy Building 29th Floor, Layang-Layang Business Centre, Jakarta, Indonesia
Registration fee: IDR 5,000,000 ($518)
The training course will discuss how to utilize digital marketing tools and strategies like paid search, SEO, web measurement and analytics, and social media PR. The course targets marketers, senior managers, and business owners who have a basic to intermediate understanding of digital marketing.
Eu Gene Ang, the CEO of Singapore-based digital consulting and training agency Clickmedia, will be one of the trainers. He has 15 years of experience in digital marketing industry and his company was a finalist in Marketing magazine's Digital Agency of the Year 2011 award in Singapore. Pandu W. Arief, the co-founder of AdPlus; and Tuhu Nugraha, a senior strategist at Klix Digital, will help bring insights and best practices to the local market.
Participants in the course will also receive a six-month silver membership at Econsultancy, where users can have access to full market reports, best practice guides, the member forum, event discounts, and others benefits. EConsultancy has opened training divisions in other Southeast Asian countries like Singapore, Malaysia, and Thailand.
This is part of IMII's monthly digital marketing courses in Indonesia. You can see more information about this training course here.
---
Techad Group now has three subsidiary companies under it: performance-based ad network Adplus, digital advertising company Brightstars, and IMII.