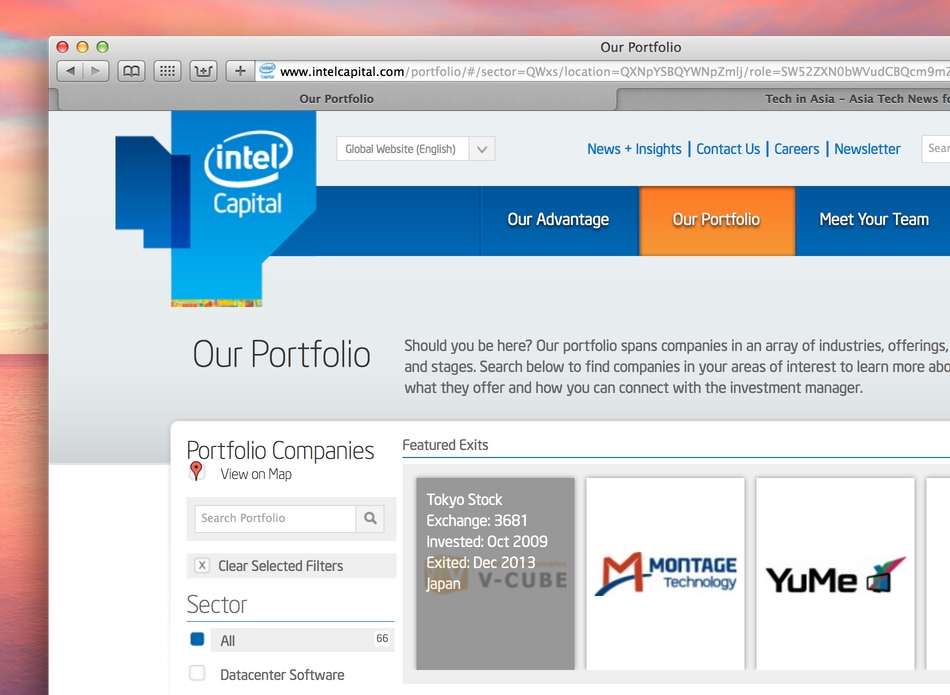 There are a lot of venture capital funds out there, many of whom are playing close attention to what's happening with startups in Asia. Perhaps the most recognizable name is Intel Capital, the venture capital (VC) arm of chip-maker Intel (NASDAQ:INTC).
When we looked at investment in Asian e-commerce firms from 2010 to 2013, we saw that nearly $7 billion was invested by dozens of VCs in nearly 400 deals in that time-frame. Tiger Global was the most active in that list, with Intel Capital second.
Intel's VC crew has invested in over 1,300 companies across 54 countries since 1991. Out of these 1,300 companies invested in, 200 of have gone to IPO, while 320 went through mergers or acquisitions.
How many in the portfolio are Asian startups? According to John Mandeville, head of corporate PR for Intel in Asia Pacific, Intel Capital has invested in over 300 firms in Asia, totaling a whopping $2+ billion dollars of investment.
Out of that $2 billion figure, $1.4 billion has gone to startups in Australia, Bangladesh, India, Japan, Malaysia, New Zealand, the Philippines, Singapore, South Korea, Sri Lanka, Taiwan and Vietnam. More than $670 million has been invested in Chinese tech companies. The below figure breakdown is given by Mandeville:
Approximately $440 million invested in 40+ companies in Japan
Approximately $330 million invested in 90+ companies in India
Approximately $260 million invested in 40+ companies in Taiwan
Approximately $200 million invested in 30+ companies in Korea
More than $100 million invested in over a dozen companies in Southeast Asia
About 60 Asian companies have been acquired or gone public
Invested more than $670 million in over 110 technology companies in China
More than 30 companies have gone public and/or have been acquired in China
Approximately 40 Chinese companies in its current portfolio
Mandeville says that Intel Capital likes to invest in the PC ecosystem, big data, tablets, wearables, cloud computing, and smartphones – those are the main areas of interests. That describes the VC's most recent investment in seven diverse startups in October. The VC is also watching the internet of things space very closely. Mandeville explains:
We are stage agnostic and we are funded by Intel, so we are a partner for the long haul. We are a global corporation, so we can bring all our marketing and networking strength to bear on behalf of our portfolio companies. […] We don't operate on the basis of one country to the exclusion of another. We operate on the basis of technology and business potential.
Despite being a huge firm, Mandeville says that Intel Capital team likes to remain accessible to startups, via the homepage or on Twitter.
While Intel Capital doesn't have a fixed checklist when talking with startup founders, Mandeville adds that having "a clear focus and a relevant business plan" is a good start for a discussion that could lead to investment.
(Editing by Steven Millward)