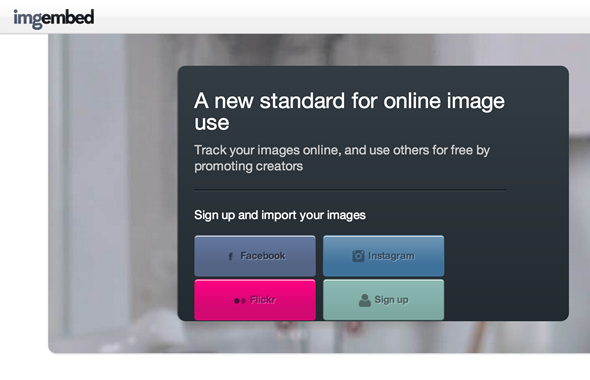 Imgembed (pronounced 'image-embed'), which has big ambitions to change the way stock photography is paid for and used online, has launched at SXSW 2013. According to Alex Goh, founder of Imgembed, the platform will soon have about 200,000 images and 60,000 image creators from 190 countries from The Creative Finder.
Previously, Imgembed's image embedding technology — which allows professionals to protect their images online and track where the images are being used — was available only to the community of The Creative Finder, a site where 'finders' meet creatives for networking, collaboration and inspiration. Imgembed and The Creative Finder are started by the same Singapore-based team.
Following the uproar from Instagram's changes to its terms of use, the team realized that all image creators including non-professionals wanted control and transparency of their images online.
For stock photography, before an image can be used on a site, the publisher would first have to pay the provider for the image. According to Alex, paying upfront for the use of images may not make sense for publishers especially those who are uncertain about the potential revenue generated by an article.
To save money and avoid having to buy from stock photography providers, publishers often use 'free' images found by searching with Google. However, image creators lose when publishers fail to pay or even attribute them for the use of their images.
Here at SGE, we tend to use images found on Flickr that have a Creative Commons license. For each photo used, we have to manually add attribution.
Imgembed will help simplify the process for publishers by providing HTML code to embed an image with attribution.  It's as easy as embedding a YouTube video.
Users of Imgembed can choose to remove the attribution by opting to pay for the use of the image using a CPM model. This allows publishers to only pay for the use of an image if it is actually being 'seen'.
The other inconvenience with stock photography is that even though you do not need to make any modifications to an image, you would still need to download the image and upload it to your own server. Imgembed removes the two stages of downloading and uploading from the workflow of publishers.
With the sheer volume of photos created online and the expected deluge of videos to come with startups like Vine creating compelling video sharing apps, there is the potentially huge opportunity to work with user generated content sites to responsibly use and monetize such content, providing a win-win solution for sites, publishers and content creators.