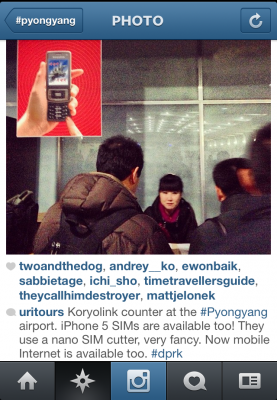 With North Korea opening up its mobile internet to foreigners, it was only a matter of time before we would start to see tweets and photos coming out of the country. And so, Instagram it is.
David Guttenfelder, chief photographer for the Associated Press in Asia, tweeted this today from Instagram:
A North Korean guide uses a pointer at the start of a tour of an historic site. On Jan. 18, 2013, foreigners were allowed for the first time to bring mobile phones into North Korea. And this week the local service provider, Koryolink, is allowing foreigners to access the Internet on a data capable 3G connection on our mobile phones. In the past I could post geolocated phone photos to my Instagram feed by turning my online laptop into a hotspot to link my iPhone or iPod touch by wifi. But, today I'm posting this directly from my phone while riding in the back of a van in #Pyongyang. The window on to North Korea has opened another creak. Meanwhile, Koreans here who will not have access to the same service, the window remains shut.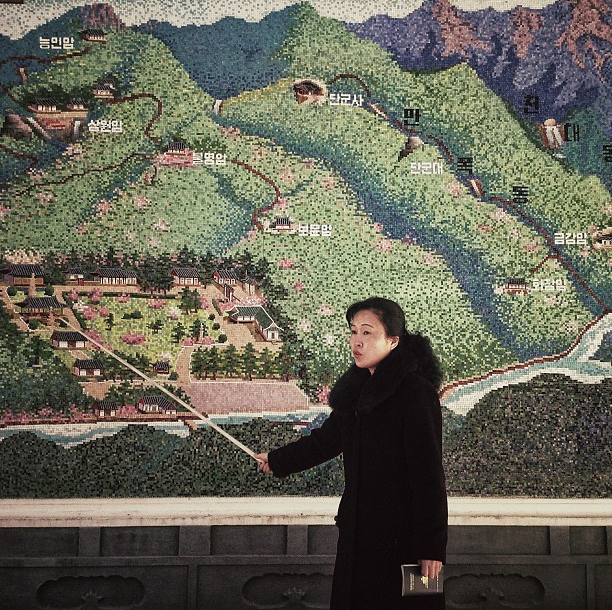 If you're on Instagram, you can take a quick look through a number of hashtags that will show you some fascinating imagery of a modern yet drab North Korea, including: #Pyongyang, #NKorea, #Northkorea and #Dprk. The photos provide a revealing picture of North Korea, from pictures of men playing pool to the beautiful statues, to the drab walkways. I'm mesmerized.
North Korea's latest developments are perplexing. One moment there are people like Eric Schmidt and Denis Rodman (just yesterday) traveling into the country, and the next second, we're getting satellite images of their concentration camps and their diplomat is threatening to obliterate South Korea. I don't know what to make of the schizophrenia.
I'm sure everybody's asking, will this new-found openness to foreign tourists and the internet impact the future of North Korean citizens? I think so. With foreigners tweeting and instragamming away, locals are bound to catch on that the data is going somewhere. It's also reasonable to assume that locals are going to get their hands on some mobile devices from foreigners. I mean, if locals are already sneaking phones into the country for usage it's only a matter of time before they get their hands on mobile internet and log on – and see a world that's brighter and more prosperous than they've been led to believe.
There's still severe poverty and Kim Jong-Un has a tight grip over information and the consciousness of the people. I mean, if they didn't, how could they pull off things like the Mass Games and the Arirang Festival? Beautiful as they are, they could only be produced by massive subjugation of the people. Don't believe me? Check out the BBC movie, A State of Mind, about just that.
Here are my favorite photos emerging from foreigners in Pyongyang right now (not all pictures are from Guttenfelder, check out the Instagram hashtags to find more):