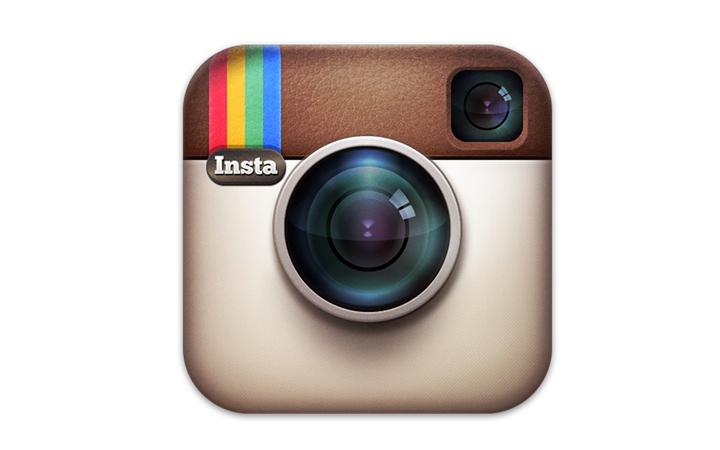 In the latest development among a trickling of disruptions on China's internet, popular photo-sharing app Instagram appears to be no longer available for download in China's many third-party Android app stores. [Scroll down for updates]
Chinese tech blog Pingwest first spotted Instagram's disappearance from China's Android app stores late last night. Almost 24 hours since that piece's publication, it's still missing. Tech in Asia searched Android app stores from Baidu, Xiaomi, Wandoujia, Qihoo 360, Tencent, and 91 Wireless and found no sign of Instagram's official app in the listings.
Here's what we see when we search for Instagram in 91 Wireless's mobile app store, via Chrome for desktop: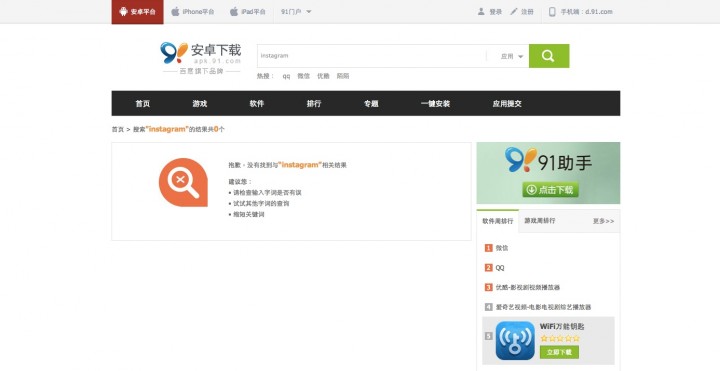 And here's what we see when we search for it in 91 Mobile's store on Android: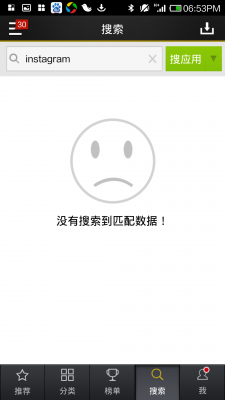 This looks like an Android-only affair for the time being. Instagram is still completely searchable and downloadable in China's App Store on iOS, and its URL remains accessible on the Chinese internet. In addition, one Chinese user who already has the app installed on her Android device tells Tech in Asia that Instagram continues to run smoothly.
We've reached out to Baidu, Wandoujia, and Instagram for comments on this matter and will update this piece if we hear back.
[UPDATE: 11:55AM 9 July]: Wandoujia replied to our inquiry. Their official response: "No comment."
[UPDATE 19:10PM 9 July]: A Baidu spokesperson has told Tech in Asia the company has no official comment on the matter.
Whatever's going on, it makes absolutely no sense
If these sudden outages are indeed deliberate decisions made by Chinese internet authorities – and it's quite possible they're not – whoever's pulling the levers likes to mess with your brain. Let's quickly round up what's gone on so far:
Line malfunctions on Android and iOS – users who haven't downloaded from Wandoujia's app store can't send or receive messages. The URL promoting the international app is inaccessible, but the URL for the localized Chinese app remains accessible.
KakaoTalk malfunctions for Chinese users on all platforms – pre-registered users can chat 1:1, but other features malfunction and new users can't register.
Flickr URL not accessible online in China.
OneDrive URL not accessible online in China.
Instagram not searchable in China's Android app stores.
But even though Line has been malfunctioning in China for about five days now, it's still searchable and downloadable from Chinese app stores. Here's what we see when we search for Line on 91 Mobile's app store for desktop browser: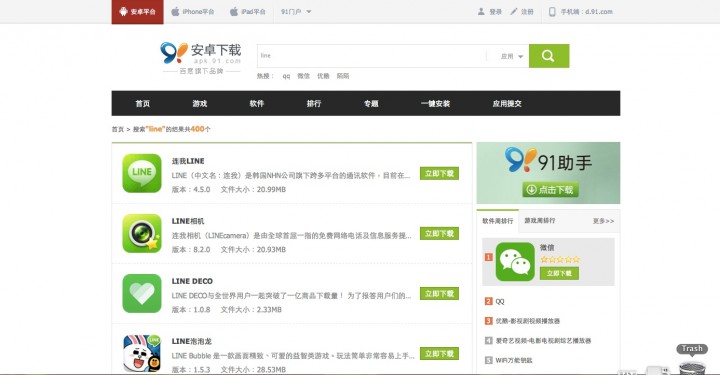 So for China's Android users, Line is downloadable but not useable, and Instagram is useable but not downloadable.
Meanwhile, Facebook and WhatsApp, both of which are Instagram's relatives, remain downloadable within China's Android app stores. The latter also remains fully functional in China.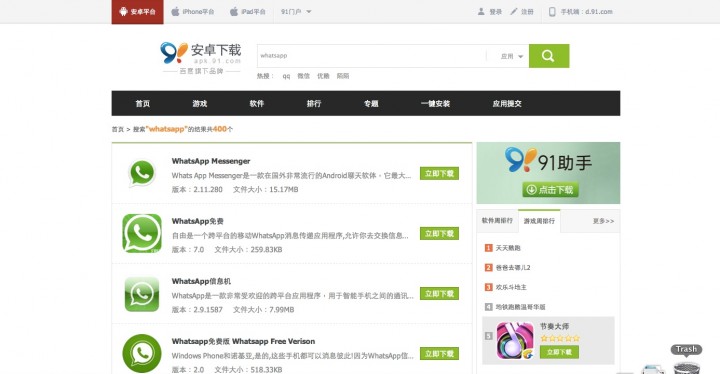 It's too early to state decisively whether these disturbances constitute permanent blocks, temporary blocks, or blocks at all. Folks who spend time living within China's Great Firewall quickly grow used to seemingly random disruptions in connectivity. These particular incidents are noteworthy, however, because they're affecting high-profile foreign companies that provide services which people all over the world use and depend on daily.
A signal to Facebook?
Some might point to the protests that took place in Hong Kong last week upon the anniversary of its handover to the mainland as a trigger for the these disruptions. That seems unlikely, as neither Line nor KakaoTalk has reached a critical mass of active users there (believe me, we'd know by now if they had) but it's not out of the question.
Another major event that might have some link to these disturbances stems not from the world of politics, but from the realm of consumer tech. Bloomberg reported last week that Facebook is in the process of signing a three-year lease on an 800 square meter office space in Beijing. While technically still a rumor, Bloomberg tends to get these things right, and the story circulated among the domestic Chinese press.
What's Facebook going to do in China? Probably something the average Chinese person will never see or care much about. Not unlike how Google, despite its absence from China's cyberspace, maintains an office in Beijing with a staff of 100 employees, Facebook's presence in the Middle Kingdom looks set to revolve around the enterprise, not the consumer. While Facebook COO Sheryl Sandberg declined to speak with media outlets during her visit to Beijing last Autumn, China's State Council Information Office reported that she met with internet bigwig Cai Mingzhao to discuss helping Chinese enterprises do business abroad. In other words, expect no baby photos on Facebook China, and expect many ads for Chinese-manufactured baby clothes on Facebook International.
To that effect, Line, Facebook, Google, and other like-minded foreign internet firms' presence in China is undesirable in the eyes of authorities not necessarily because they plant the seeds for glorious revolution, but because every dollar spent on Google AdWords or on a Line official account is one less dollar spent on Baidu's ad platform or WeChat's ad platform. Causing minor, mysterious disruptions is but one method for planting a "No Tresspassing" sign towards foreign competitors.
Of course, it's worth reiterating that at this point in time that these disturbances, while unusually long both by international and Chinese internet standards, could ultimately be temporary. And given the perpetually shaky nature of China's internet, it shouldn't come as a surprise if all of these services return to normal starting tomorrow – cue the "it was all a dream" music. Maybe China has it in for Hong Kongers. Maybe China has it in for Facebook and other foreign firms. Or maybe some guy just pulled the wrong lever.