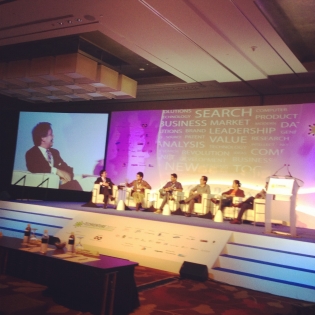 We often see successful startups coming from the West, more particularly in Silicon Valley and sometimes it raises the question of whether there is innovation in Asia. A panel of young innovators, moderated by Wong Meng Weng from JFDI Asia, took to the stage at Techventure held at Singapore's Marina Bay Sands:
Where in Asia is the hotbed of innovation?
In all honesty, each city can have its own strength, and it is difficult to pinpoint where exactly is the right place, Amit says. There are different places catered for different stages of growth. There are places where startups can fight unfairly and gain an advantage.
On the topic of whether Asia innovation equates to that of copying Silicon Valley, the panel has a different take on this.
Dennis cites his own startup as an example, and highlighted that ideas are plentiful. Adopting the Darwinism "survival of the fittest" rule, many ideas just happen to be executed extremely well. There are no shortage of good ideas. In fact, most of them are adapted and learned from earlier ideas, and evolved to suit markets. Two sites might look similar, but on the backend, there are features specially tailored to Asian countries.
When Dennis was asked if he felt threatened by the entrance of Yelp into the Singapore market, he explained that in fact, when HungryGoWhere started, there were two to four other similar food review sites. At the end of the day, it is easy to copy at first, but it eventually boils down to how you package your product and sell it to your users. HungryGoWhere prides itself on understanding its audience, and perhaps Yelp will also eventually see why it is thriving well in Singapore.
I particularly liked it when Darius stepped in to defend Asia innovation. He says that as much as cloning issues are raised and talked about, there is in fact a lot of innovation going on in Asia. He cited two examples: Pigeonhole and mig33, where the former addresses issues faced during conferences, and the latter, Steven Goh, founder of mig33 is doing something awesome in Indonesia.
So how do the investors make sure that they don't miss out on the innovation that is happening before them?
Amit says that it is important to have a dialogue, not a one way conversation, whilst talking to the other party. You need to communicate your ideas well to them. It also boils down to the importance of the team, in Darius' opinion. He draws parallels between getting investors and finding a wife or a lifelong partner. One needs to have confidence before investing in them.
And of course, life has its ups and downs, and each panelist had a lesson to share with the audience as well.
In Amit's entrepreneurial journey, he learned to be patient. Sometimes we often jump into decisions, thinking that it is the best and last option available out there. The truth is, there will always be something better out there and one should be patient and wait.
Putting on the investor's hat, Amit advises investors to spend an appropriate amount of time with entrepreneurs before investing in them. That makes sense. After all, you become part of the company should you eventually decide to invest.
Something perhaps some of us never knew was that the process leading up to the HungryGoWhere exit was not smooth sailing for Dennis. At the start, Dennis assumed that they had the right product for the right audience. However, for the first two years, he could not communicate well with merchants. Despite having a large userbase, they were close to shutting down the site. We often place so much emphasis on the product that we neglect educating stakeholders and their mindsets. Merchants could not understand the HungryGoWhere model and Dennis found the learning curve of that really steep. Through this, he learned the difference between users and customers.
Darius feels that most entrepreneurs lack confidence, shortchanging themselves in their focus and execution. We're often in the bubble where, "if you do not play the game, then you will not lose." Truth is, you will never know what the result is, until you step forward.
James also added that many entrepreneurs start off thinking they have great ideas, but having the stamina to sprint and soldier on is an entirely different issue.
Do younger or older people have better stamina?
James feels that the mindset matters. "How you think makes you young or old," he says.
I concur. Rameez added that entrepreneurs need to understand why we choose to do certain things. Some of us are driven by passion, whilst some are driven by monetary rewards. But personally, I often find that people driven by passion soldier on better than those driven by the latter.
You may have noticed that most of the panelists are pretty young themselves. They were then asked if they were ever a victim of age discrimination, and if so, how did they handled it.
In James' opinion, the people who win are the ones who synthesize well. Age undoubtedly earns one a level of benefit, since with more experiences come more mistakes to learn from. But he also highlights that the younger you are, the more you will question until you reach a high level of maturity and understanding. To him, age discrimination is just another form of bias.
But I also do agree Darius' comment where he said, "Maybe you really do suck – that's why you get discriminated against." If not, just suck it up and prove your worth. What is most important is that entrepreneurs should not underpromise and oversell.