If you've been to Beijing, you know the air sucks. Many folks wear masks to protect themselves from the poisonous air. But often, these face masks are just pieces of cloth pulled over to cover your nose and mouth. Face masks don't necessarily work – plus they're ugly and inconvenient. Understanding the problem, Infipure is a company that set out to solve it through its technology-enhanced "invisible masks" to protect people from all that PM2.5 air pollution.
The problem
The founders sought out different ways to build that perfect mask, thinking about issues like sizing, efficiency, and appearance. Francis Law, partner at Infipure, tells us:
We wanted to be in China, but at what cost? Our health and livelihoods were at risk. Recognizing this, we channeled together our entrepreneurial spirit and sought out ways to defend against air pollution and promote healthy living for not only ourselves, but also our friends, families and the general public.
After much research, the Infipure team learned that most people actually breathe in through their nose. Most people only breathe in through their mouth when they are exercising or when they've got a cold. Francis adds:
Based on this finding, we set out to design a new type of face mask. One that can be used in the nose and that addresses the effectiveness, comfort, convenience, and aesthetic issues found in normal facemasks.
The solution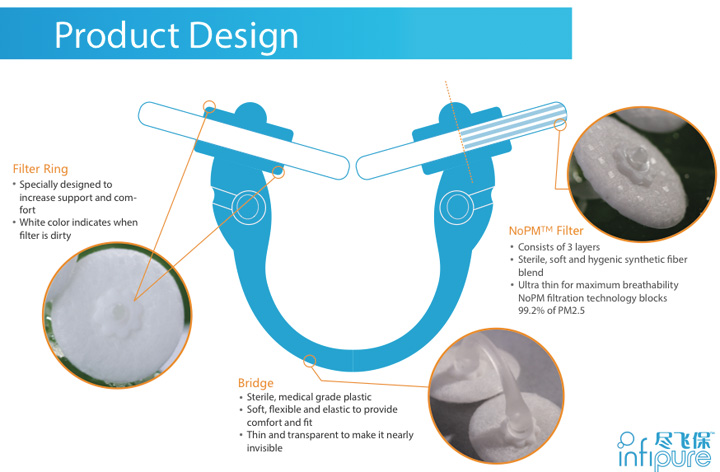 The solution turns out to be pretty innovative. As pictured above, the Infipure "mask" works like a small filter inserted into the nose. It's patented and trademarked 'NoPM' filter technology claims to be able to filter out up to 99 percent of PM2.5 air pollution particles. PM2.5 particles are about 1/30th the width of a human hair.
Infipure nostril filters are also designed to look good. Well, at least better than face masks. The only visible part is the bridge which is hardly visible unless someone takes a close look at your nose.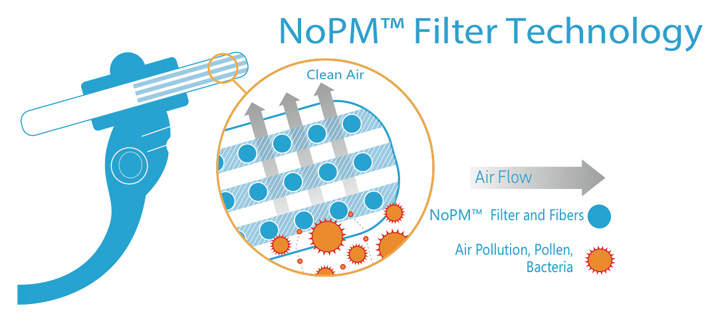 Infipure is founded by Richard Law and Tiffany Tian who started working on the idea while they were at MIT for graduate school. Francis was already in China and joined them on this venture when Richard and Tiffany came back to Beijing. The product is designed in partnership with one of the founders' MIT professor. Francis shares more:
With the Infipure Invisible Air Mask, we felt we finally found a product that could protect you from air pollution while being comfortable and allow you to look great!
Infipure has been a self-funded company so far, including financing help from family and friends. The team of eight is headquartered in Beijing.
On the market, up your nose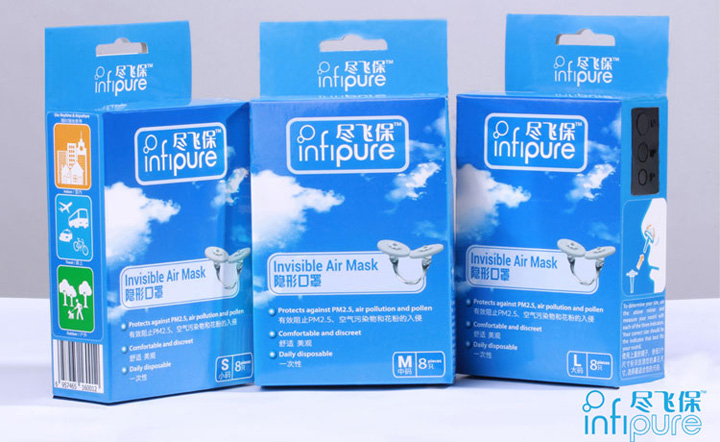 Infipure is currently out on the market, and has been selling on Taobao for just about two weeks. A box, which contains eight pieces of filters, costs just RMB 21.60 (US$3.50). Each filter only costs about $0.44 which I think is really worth it for the benefits it brings to our health. The filters come in small, medium, and large sizes suitable for adults. The team is currently working towards producing filters suitable for children.

Infipure is rolling out in China first before expanding to other countries, including Japan, India, and Brazil. Besides selling it on Taobao, Infipure is also distributing its products in large pharmacy chains and convenience stores within the coming weeks. Apparently, the Chinese government has been pretty supportive so far, as Francis explains:
While we didn't have formal help from the government, we found the government bodies such as tax authorities, patent offices, product standards to be very helpful in helping and guiding us. Going forward, we have plans to work with the government on supplying to staff that need it most, such as the police force.