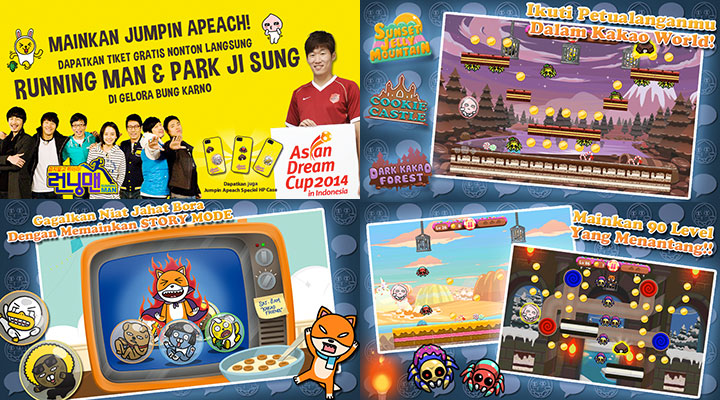 While Indonesia's mobile industry has abundant potential, it's game developers who are mostly leading the way. That's not a bad thing of course. Today there's a major new development as Indonesian mobile game developer TouchTen has made a game specifically for the KakaoTalk social gaming platform. COO Rokimas Soeharyo says that this is the first ever game made with KakaoTalk's characters in it.
The game, titled Jumpin' Apeach, lets users play as KakaoTalk's cartoony characters, such as Apeach, Frodo, Neo, and Jay-G.
Jumpin' Apeach is available in the Indonesian language, but international users can easily understand and play the game too.
The gameplay is very simple as you simply have to bounce your way left and right while inside a bubble to get coins – all while evading lots of spiders. The game's premise is as straightforward as the gameplay: you need to rescue your captured friends through 90 game stages. Regular TouchTen gamers will notice the gameplay similarity to another title from the developer called Fun Toilet Games: Panda Adventure.
(See: 3 reasons why CyberAgent Ventures invested in TouchTen)
The new game has a contest in which Indonesian gamers can win one of 10 VIP tickets to Asian Dream Cup 2014 where Korean football star Park Ji-Sung and the cast of popular TV series Running Man will make an appearance in Indonesia. The contest period starts tomorrow until May 27.
Play to win merchandise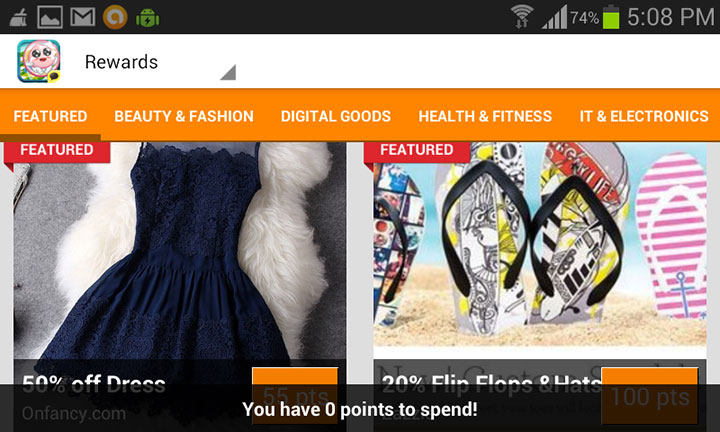 Aside from developing games, TouchTen more recently started its game publishing platform. In addition, the startup has made progress by launching a reward platform across its mobile games on Android. This effectively lets users trade in their hard-earned points within TouchTen's games for rewards like real-world vouchers and discounts.
Each TouchTen Android game now has a reward tab on the main screen. Users can generally get one point for each stage they clear on any game as well as bonus points when they achieve certain milestones. For example, users get 50 points when they clear a world in Jumpin' Apeach.
Rewards include a 50 percent discount on dresses on Onfancy (in exchange for 55 points), a Tororo plush bag (5,000 points), and US$25 credit on Airbnb (available for free). Some of these rewards come courtesy of loyalty platform Gimmie World.
Jumpin' Apeach is available only on Android currently. You can download it here.
(Hat-tip to Joshua Kevin for spotting the game)