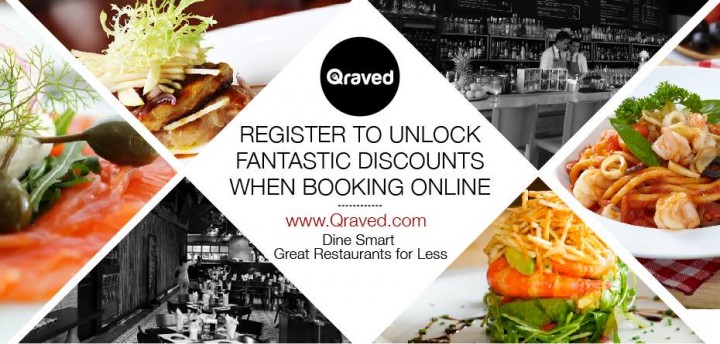 Indonesia's social dining directory Qraved today announced that it's now out of beta. Besides a new website interface, the startup now offers incentives for users to start making online restaurant bookings: discounts.
Offers from over 100 restaurants are in the pipeline. Currently, quite a few high-end restaurants offer these discounts including Auroz and Nan Xiang, and some of these discounts range between 30 to 50 percent off under certain terms and conditions. Users need to make an online booking to get these discounts.
Learning from beta experience
Co-founder Adrian Li explains that Qraved's beta version was a Pinterest-like food photo sharing site. Within two months they had 20,000 photos and social actions, which helped the team to understand the types of restaurants that people liked.
They believe that photos are often the initial trigger that makes people want to eat at a particular restaurant, which is why the site focuses more on images. Users also put higher value on recent reviews from real diners, so the team changed their policy to only allow users who have booked and dined through Qraved to write a review.
Competition
Qraved is up against a fair bit of competition in Indonesia in food discovery startups like Zomato, Abraresto, OpenRice, LivEpicly, and IndoTable.
Qraved is just two months old, making it the youngest of the bunch. Zomato comes from India with $37 million funding lead by Sequoia Capital, OpenRice Indonesia has 34,000 members sharing over 130,000 reviews so far, while IndoTable has 20,000 registered members. None of these players offer discounts from restaurant partners to reward online booking activity.
These discount values might just be able to convince more people to start visiting Qraved and make online bookings. The site will soon launch its iOS and Android mobile apps.
(Editing by Paul Bischoff)