(Updated on April 10th: Vimeo is no longer being blocked by Telkomsel. Hat tip: Ferdinand Zebua for this update.)
(Update: The Indonesian ICT minister Tifatul Sembiring tweeted earlier today that the Vimeo blockage is done by each Internet Service Provider.)
It has been a strange morning today as there have been numerous reports from Telkomsel customers in Indonesia that they can no longer access Vimeo because it is blocked by the provider (pictured below). Though others on the same ISP report that they can still access the video-streaming site. I talked with a few friends of mine and this is what I got from them: Vimeo is accessible under Telkom Speedy, an internet service by Telkomsel's parent company Telkom, but Vimeo can't be accessed under Telkomsel's mobile 3G network. Why is the site blocked by Telkomsel?
The most probable reason any site is being blocked by Telkomsel, the company's customer service told me, is that because it is affiliated with pornography. A similar statement was also given by Telkomsel's Twitter account this morning, saying that if Vimeo has prohibited content, then it is blocked by Indonesian authorities. That is weird, because if it's inaccessible at the order of Indonesia's ICT minister, then why is Vimeo not blocked by other 3G providers too? At the time of writing, 3, Smartfren, and internet service providers like Telkom Speedy and Fastnet all allow access to Vimeo. So far it is only Telkomsel that has this problem.
Too much skin on Vimeo?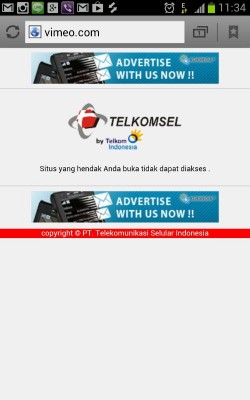 Vimeo is a weird target among video hosting sites for such a ban 1.
There is no porn inside Vimeo, but there is nudity – apparently so long as it's artistically justifiable. As a user-generated content site, there might be people who try to upload explicit material to Vimeo, but the site has made it clear that it prohibits such videos and will have them deleted when found. While the same thing applies to other video sharing sites like YouTube, I think Vimeo is by far one of the last video sharing sites you'd browse if you're looking for porn.
Why? Because Vimeo usage is geared more towards professional film-makers and documentaries as it only allows people to upload videos that they created themselves or at least have necessary the licensing rights to publish. It's all quite carefully curated. This explains Vimeo's low number of users in comparison to Google's video sharing site.
Crunching through user numbers and video uploads, the probable number of porn videos being uploaded on Vimeo pales in comparison to what YouTube receives every day (though YouTube deletes explicit content too). If porn is the reason behind Telkomsel's ban, then YouTube should've been the one blocked first before Vimeo. And I think Telkomsel understands this too.
If nudity is porn…
I did find some nudity on both Vimeo and YouTube, but I did not find porn per se during my – ahem – research. Indonesia's pornography law states that any form of communication in any media which can arouse sexual desire and/or violates the community's morality norm is considered to be porn. That last part I highlighted because it is quite vague, and under that vagueness, nudity, even if it's for artistic purposes, could also be construed as porn.
But this censorship has more cons than pros right now. Because not only are there a lot of Indonesian professional videographers who are using Vimeo every day – either to upload or to find inspiration – there are quite a number of fascinating videos on Vimeo which are worth seeing. Of course, Telkomsel's ban means that Vimeo's embedded videos will show up blank.
Right now, Vimeo is ranked 131st globally in terms of website popularity, and 351st in Indonesia.
Telkomsel is the largest telco in Indonesia, garnering around 121 million users back in October, making the telco the seventh largest in the world. 121 million users is about half the number of Indonesian population of 250 million. Surely quite a few of them are artists, film-makers, or fans of short films who watch Vimeo videos from time to time. I hope that other Indonesian telcos won't bring this ban to their 3G – or home internet – services.
What do you guys think? Is censoring Vimeo the right thing to do?
(Hat tip to Ferdinand Zebua for this tip, and Rizqi Djamaluddin for the news)
---
Note: Sites devoted to saucier videos, like RedTube, are banned in Indonesia.