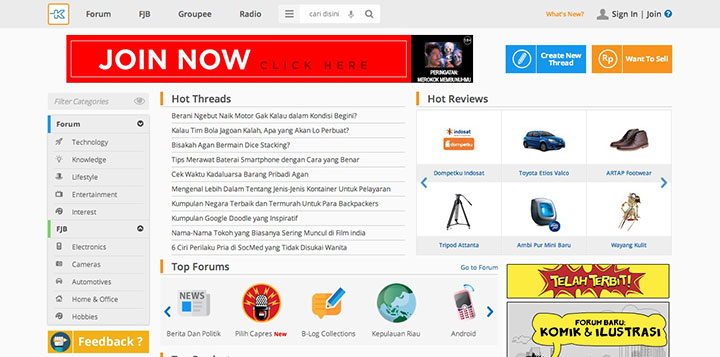 Online forum, classifieds, and ecommerce site Kaskus has become an inspiration to many Indonesians as it created one of the first tech/web millionaires. Since its influential co-founders Ken Dean Lawadinata and Andrew Darwis stepped down as CEO and CTO in December, a lot of people have been eagerly anticipating what new CEO Sukan Makmuri has in store for the company. Today, Kaskus held its first press conference since that time to talk about the first changes under the new leadership. The company also revealed some new numbers.
The first move for Makmuri is revamping the Kaskus website. That came into effect on Monday. Though the previous design looked cleaner, the new layout has much more information so that users can navigate to more features through the homepage, such as to popular threads, services, second-hand items, and promoted forums.
See: Why now is an exciting time for Kaskus – and everyone
Today the team also launched its Kaskus Evolution page. The new page lets them gather user feedback, which will be considered when they want to launch future updates. In just three days, the team has gathered about 4,500 bits of feedback so far. Regarding new updates coming up in the near future, Makmuri says that they take the attitude "do first, talk later", which means that they will launch new features first before announcing them to the media – just as it did this week.
Kaskus claims to have over 6.8 million registered users right now, who create 4,000 new threads every day. The site records more than 750 million pageviews and 25 million unique visitors every month. On average, each visitor spends about 29 minutes on Kaskus every day. That's a big bump up from December's 600 million monthly pageviews.
Kaskus is the undisputed king of online forums in Indonesia. When it comes to online classifieds, its main rival is TokoBagus, which rebranded as OLX.co.id yesterday. Many people are questioning the rebranding after TokoBagus spent so much money marketing itself and getting the old brand name inside the heads of Indonesia's web users.