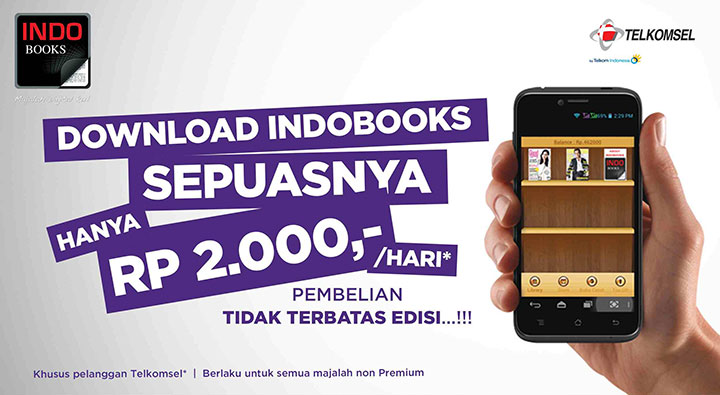 Indobooks, an emagazine player in Indonesia, recently announced a new payment method that lets its users download as many non-premium magazines as they want within a certain time frame. The team claims they are the first player in Indonesia to offer such a subscription scheme.
Telkomsel users can pay for their subscriptions via carrier billing for IDR 2,000 (17 cents) daily, IDR 5,000 (44 cents) weekly, and IDR 15,000 ($1.3) monthly. Currently, Indobooks has 150 magazines with over 2,000 new editions every month. Some of the premium magazines include T3 and Globe Asia, while the non-premium ones include Four Four Two, Forbes, and Tempo. A few magazines are a bit out of date, though. FHM and Cosmopolitan are late by about two months.
(See: 8 digital book apps and platforms in Indonesia)
Co-founder Hiro Whardana reveals that they've reached 100,000 downloads, with 35,000 monthly active users. On the other hand, rival Scoop 1 now has 1.5 million downloads, 30 percent of them being active users. WayangForce has over 15,000 magazines, books, comics, and newspapers inside its app.
Indobooks – which is only available on Android – offers several payment methods to users: bank transfer via SelaluAda, credit card, PayPal, and carrier billing for Telkomsel and XL Axiata users. Indobooks will focus on user acquisition by partnering with gadget brands.
(Editing by Paul Bischoff)
---
Disclosure: East Ventures invests in Apps Foundry – the creator of Scoop – as well as Tech in Asia. See our ethics page for more information.↩