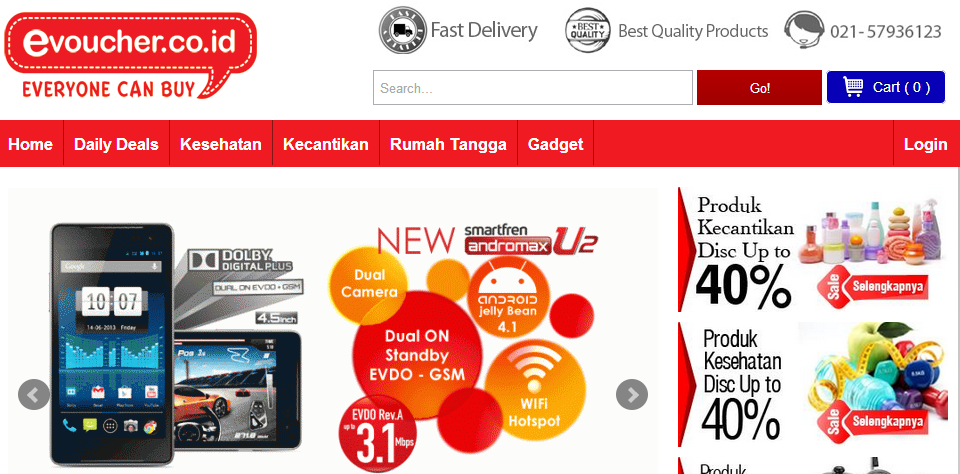 Many people are watching the rivalry between LivingSocial and Groupon in Indonesia. But let's not forget there are plenty of local daily deals sites out there. One of these is EVoucher. How's it doing in this tight market?
EVoucher was launched in 2010 by Danny Baskara. Since its launch, the company has partnered with more than 3,000 merchants in Indonesia, in categories like food and beverages, travel, and health. The site sees 25,000 daily visits, and has more than 800,000 active members who make 500 to 1,000 transactions per day. This number is increasing every year; in the first year, EVoucher saw just 20 to 30 transactions per day, rising to 200 to 300 daily in the second year.
Timed to coincide with its third anniversary a few days ago, EVoucher launched EVstore. Just like a regular e-commerce site, this new e-store delivers products to customers in a shorter time (one to two days after the transaction), compared to the daily deals system whereby customers wait till the deal period is over. This launch is the result of EVoucher's careful observation of its customers, the startup says. The team noticed two things: customers want to receive their products faster and some of them want to buy the products again (in the daily deals system, they'd have to wait till the same promo is offered). Founder Danny Baskara tells us:
We focus on customer's satisfaction and the promptness of products delivery. Therefore we launch EVstore, so that customers can get the products faster.
To attract more customers at this early stage, EVstore offers a free delivery service in Jakarta.
Standing up straight without any investors
At the moment, EVoucher does not have any investors. The company says that finding investors is not the main concern, but they'd seek out VCs experienced in B2C e-commerce and who have the same vision. So it's not just about financial support. The startup claims that its monetization is going well so far. Danny explains:
The positive thing about having no investors is the team becomes more flexible and creative in terms of making revenue models.
The team says it has some new monetization strategies in mind, but declined to reveal them at this stage.
EVoucher will launch mobile apps and add some new features in the near future. Looking at its stats and progress, EVoucher could become a rival to the two biggest daily deals sites in Indonesia, LivingSocial and Groupon.
(Editing by Steven Millward)