Electronic transactions haven't taken off in Indonesia so far, with 99 percent of transactions in the country still conducted in cash. To work around that, a lot of startups and online shops must facilitate offline payment methods with things like cash-on-delivery (COD) and gaming vouchers.
While startups will still need to cater to these offline payment methods to keep business going, there's a good indication that Indonesian society will adopt electronic transactions more rapidly in the coming years.
As reported by Detik today, Indonesia's national bank revealed a few statistics about the e-money condition in the country. So far e-money – defined as money used in any transaction besides cash – has been mostly used for payments valued under IDR 5 million ($435) in Indonesia. Total e-money transaction value in 2013 amounts to IDR 6.7 billion ($583,000) per day or IDR 2 trillion ($174 million) per year. Annual cash transaction value in Indonesia is IDR 260 trillion ($2.3 billion).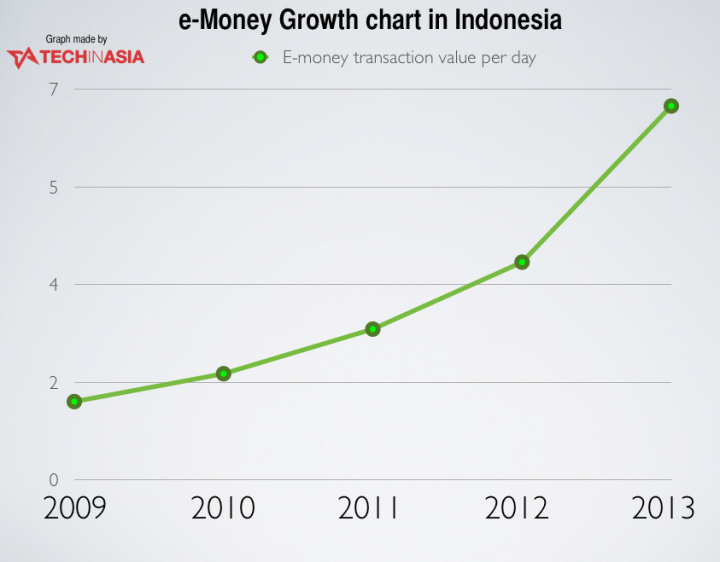 But trends show that e-money will grow much faster in the coming years. All of Indonesia's e-money transactions in 2009 totaled IDR 1.4 billion ($122,000) per day. The following year it increased to IDR 1.9 billion ($165,000) per day. In 2011 the value rose to IDR 2.7 billion ($235,000) and last year it reached IDR 3.9 billion ($340,000) as seen in the graph above.
Up until May this year, 25.3 million e-money instruments (like BCA bank's Flazz cards and Indomaret's e-Toll cards) have been issued so far, surpassing last year's tally of 21.9 million.
Positive trends
Amdocs and Analysis Mason's recent study cited two other trends that forecast growth. First is how the Bank Indonesia relaxed regulations, allowing telco agents to let customers cash e-money out from their e-wallets without any funds transfer license (although e-wallets are not widely used). Secondly, Indonesia's biggest three telcos allow users of their three e-money tools – Telkomsel's T-Cash, Indosat's Dompetku, and XL Axiata's XL tunai – to send each other money, which helps lessen payment hassles between e-money users.
Regarding Indonesia's payment adoption habits, the report says that out of Indonesia's 60 million bank account holders, only 15 million of them use cashless payment methods like credit and debit cards. That leaves a lot of room for e-money to grow in Indonesia.
(Source: Detik)
(Editing by Paul Bischoff)