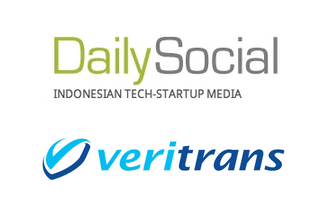 A new report by DailySocial Research and Veritrans on the e-commerce market in Indonesia has revealed, among other things, that the country's e-commerce market is a drop in the ocean compared to total retail sales, at only 0.7% (USD0.9 billion) out of USD134 billion.
The research project is a collaboration with Veritrans, an online payment processor for the Indonesian market. The team collected data through first-hand interviews, existing information on the Internet, and transaction information from e-commerce companies in Indonesia, which includes Kaskus, the country's leading online classified ads site. Online shoppers. 584 of them, were surveyed as well.
The report is available as a free download on the DailySocial website.
For this project, DailySocial has defined e-commerce as "the sales of goods and services where an order is placed by the buyer or price and terms of sale are negotiated over the Internet."
The report adds that "payment does not necessarily need to be made online," and can include classified ads sites. Online travel services, financial brokers and dealers, and ticket sales agencies do not count, however.
More findings from the report:
Average annual e-commerce spend per e-commerce user is USD 256, lower than Brazil (USD 824), China (USD 799), and United States (USD 1,111).
Percentage of e-commerce users out of the internet population is 6.5%, again lower than Brazil (17%), China (28%), and US (71%).
More than 2/3 of e-commerce users access the Internet via desktops or laptops at home.
More than a quarter of users spend over 30 hours per week online.
Search and social networking are the most popular applications of the Internet for e-commerce users, with many Indonesian businesses engaging potential customers through these channels.
Fashion items are the most popular goods bought online, followed by travel bookings and music/video/games. More popular categories in developed markets, like grocery shopping, are non-existent.
Half of online shoppers use Kaskus or Facebook to shop.
Bank transfer remains the most popular mode of e-commerce payment, despite the fact that they require double the number of steps compared to credit card payment. Online payment solutions are still fragmented and not widely used.
Majority of online shoppers spend up to USD 55 per online transaction.
The e-commerce market could grow ten-fold to USD10 billion by 2015, driven by strong economic growth and rising purchasing power.
Slow internet and unreliable delivery time, poor product quality and customer service, as well as the lack of online transaction facilities are key obstacles to explosive growth in e-commerce.