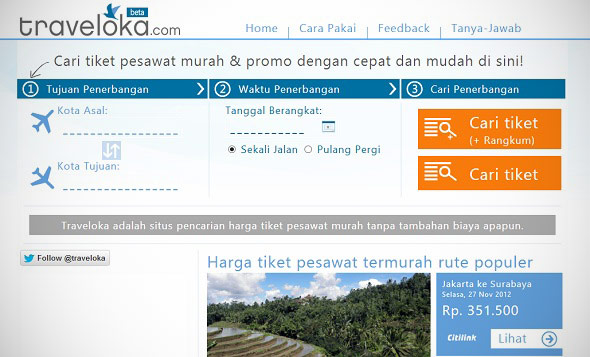 Indonesian travel search engine Traveloka announced today that it has received an investment from East Ventures, an early stage VC firm based in Singapore and Indonesia. Terms of the deal were not disclosed.
The site has gotten off to an encouraging start since launching a month ago. So far, it has served over 400,000 flight searches for users from over 200 cities.
Traveloka helps users discover and compare flight deals after they key in details for departure, destination, and travel dates. Once they've decided on a flight, they will be redirected either to the airline's page or Tiket.com, another Indonesian travel startup, to make a booking.
"Indonesian travelers are price-sensitive when it comes to their transportation budget and our service is uniquely suited to serve this market," said Ferry Unardi, co-founder of Traveloka.com. The site focuses on the Indonesia market and most of its users are from the country.
The site plans to work on commissions, referral fees, and ads as revenue sources, as wells as integrate more partners into the site to give users more reasons to use it. For now though, the company's focus is on improving the core product.
The startup was founded in mid 2012 by a group of Indonesian engineers with work experience in Silicon Valley technology companies.
Darianto Kusuma, one of the founders, was formerly a senior software engineer at LinkedIn. His LinkedIn profile states that he left his job in the Valley to return home and "pursue the dream of revamping Indonesia's tech startup ecosystem".
Traveloka is one of many startups to make a splash this year in the Indonesian online travel market, which is shaping up to be very competitive. A sampling of startups that fulfil the travel discovery role include Gonla, an online travel agency, Flamingo, which offers tour packages, Burufly, a site that offers Indonesian destinations, and Telunjuk, which also offers plane ticket price comparisons.
Internationally, Traveloka is competing with US startup Hipmunk and Singapore's Flocations, which offers search by price.
On a side note, Traveloka has released an infographic about the Indonesian aviation industry: