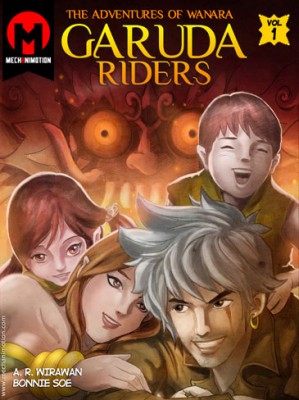 Indonesian digital art studio Mechanimotion Entertainment and game developer Elven Games released the first episode of an Indonesian folklore-themed gaming app for Android called The Adventure of Wanara: Garuda Riders this week. Interestingly, the game takes the form of an interactive comic. We talked with Mahdi Bashroni Rizal, the CEO of Elven Games, about his latest game.
The Adventures of Wanara tells the story of protagonist Naradja, who is a descendant of three races: human (Rama), giant (Rahwana), and monkey (Hanoman). Naradja will have to stop the resurrection of the devil king from inside him by collecting the eight God elements or Hastabrata. The app is loaded with mini games, animation, and Bali-themed background music to help get the fun going.
Mahdi said that the game story was inspired by the Indonesian folk tale Ramayana. The team wanted to create a unique experience where people not only can have the pleasure of reading the comic books' story, but also feel more involved as well with the app's aforementioned features.
Garuda Riders is only the first out of the five episodes for The Adventure of Wanara. Its sequel, Eye of Garuda, will be released next month. The games' development is sponsored by Indonesian telco operator Telkom.
Elven Games has built other Indonesian-themed games previously such as Durian's Revenge and Nusantara Chronicle. Mahdi explained that it is indeed their mission to showcase the Indonesian culture through gaming media to the international community. He cited Japan's success in promoting its culture globally through games and anime as a source of inspiration.
By the way, Elven Games is the same game studio whose game Chase Burger was hijacked recently. The company has just changed its name from Elventales Studio to Elven Games now. You can download The Adventure of Nawara here. The iOS version of the game will be available soon.