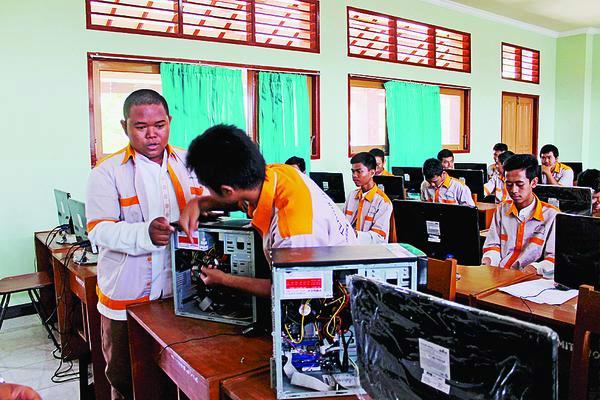 Here's a nice story. There is an Indonesian vocational school called SMKN 3 Mataram. Its computer network engineering department doesn't have enough budget to let its students practice assembling the different hardwares as a part of the school's curriculum. Instead the school decided to receive orders from the regional government and Mataram University to assemble thousands of laptops, computers, and LCD projectors, enabling its students to learn first-hand about what it takes to become a professional engineer.
There have been over 2,500 laptops, computers, and LCD projectors assembled by the SMKN 3 Mataram students over three years so far. Kompas cites Dewi Prasetyo, an 11th grader at SMKN 3 Mataram as saying that she has assembled around 100 electronic units. It usually takes around 15 to 20 minutes to assemble one unit.
The students are also taught to provide professional "after-sales service" for every assembled units. The students' serial number is inscribed for each unit they assemble, so every malfunctioning unit will be given back to the designated student to be fixed.
The finished products will then be sold as the government's subsidized products to other vocational schools located in the Nusa Tenggara Barat (NTB) province. The government also gives away some of the electronic units to the schools in remote areas.
The school also offers similar incentivized class practices to its other departments, such as welding and carpentry. For its production-based teaching programs, SMKN 3 Mataram has been included as one of Indonesia's 90 international-level vocational schools.
[Source, image: Kompas]