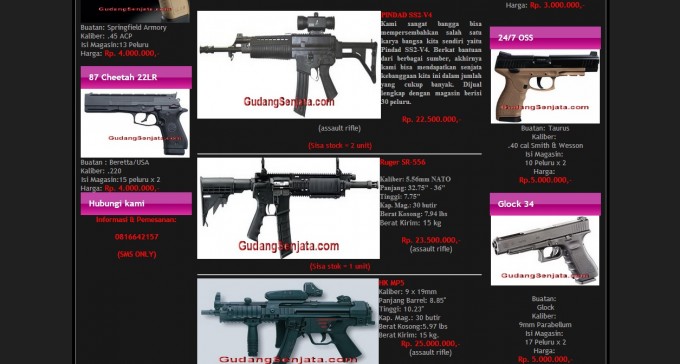 We like specialist e-commerce sites in Indonesia, but we were certainly not expecting something like this. There's one Indonesian website that sells illegal guns. Gudang Senjata (meaning "weapon warehouse") sells guns and accessories online, and even admits that its products are illegal weapons for which they don't have a firearms permit.
Gudang Senjata, which seems to have been operational since 2010, was discovered by Detik yesterday after a few people received random ads/messages (most probably via SMS) stating that they can visit the Gudang Senjata for all their firearms needs.
This is certainly one of the biggest WTF moments in Indonesia's burgeoning e-commerce industry. For IDR 5 million ($520), you can purchase beretta or glock handguns. While with IDR 25 million ($2,600), you can get military-style rifles like an MK-16 or an MP5. Each firearm purchased comes with two fully-loaded cartridges and additional bullets. A notice on Gudang Senjata says that in order to purchase more ammunition and accessories, like bullet proof vests and rifle bags, users need to become members first by at least purchasing one weapon from the site.
Under the radar
The gun site's FAQ section even details how the team operates under the radar. Gudang Senjata only communicates through SMS, email, and Yahoo Messenger, and the team only accepts payments through bank transfers. In addition, Gudang Senjata only accepts cash-on-delivery payments from high-level members so as to avoid traps laid out by the authorities (this latter remark about avoiding traps by the authorities, by the way, is openly put on the site).
As for deliveries, the service explains that each weapon will be wrapped in aluminium foil and carbon paper to avoid X-ray detection. Then, a few used motorcycle spare parts will be put at each corner of the package to ensure that any X-ray can still identify that the package does indeed have identifiable material inside it. Gudang Senjata will use a package label fabricated from one of Indonesia's top motorcycle producers to ensure that it looks more believable to postal services who might inspect the parcel.
Lastly, the site promises to keep its customer data private from any parties.
No, it is not a prank
Let's rewind on the facts. One, Gudang Senjata admits that it's selling illegal weapons without any firearms permit. Two, the site details how it operates and even gives out its contact number, email address, and Yahoo Messenger. Three, it claims it has been operational since 2010. And fourthly, the business apparently sent out ads/messages to random people. How on earth is the site still up? Is it a prank?
The same Detik report cited the national police chief spokesman Suhardi Aliyus as saying that they have known about the site's existence for a long time, and that they have monitored it for some time too. He then said that the site had been closed before, but now that it has come back, he will inform the responsible task force to recheck the site. He admits that what Gudang Senjata is doing is illegal and the perpetrators will be prosecuted if they are caught. So, no, it doesn't seem Gudang Senjata is a prank.
People have been baffled about where Indonesian robbers have been getting their firearms. Perhaps the answer is easier than most people think: they got tooled up thanks to this website. A website that is still live today.
(Source: Detik)