This week a group of Indonesian bloggers calling themselves "Suara Blogger Indonesia" (meaning: Indonesian bloggers' voice) is promoting the need for more freedom on the internet in Southeast Asia. Their net freedom declaration supports the idea of transparent internet governance, and looks to protect five key values: expression, access, openness, innovation, and privacy.
Looking over the bloggers' website, they talk about how Indonesian internet freedom is already at risk of further internet abuse. The site explains that the country's government, ISPs, and operators have the freedom to choose which sites they want to block, and that the reasons for these choices are not made transparent. Furthermore, the country's online defamation regulation is also a threat to freedom of speech on the web.
Worsening Net Freedom in Vietnam, Philippines
The online movement also looks to support the release of the Vietnamese bloggers who were arrested for criticizing the government recently. This is one of several worrying developments in curtailing net freedom to have rocked the Southeast Asia region lately. Earlier this week, the Philippines passed into law a controversial new cybercrime Act, which is deemed too vague, and may be vulnerable to abuse by authorities.
So far the Suara Blogger Indonesia group has garnered support from 17 local institutions, including Indonesian ICT volunteers ICT Watch, and the Indonesian Alliance of Journalists, AJI. They are looking for more support in the region.
We recently talked about on online protest in Malaysia over the 114A amendment that makes publishers responsible for content that anyone posts on their site. Other countries in the region, perhaps most notably Vietnam and the Philippines, have been in the spotlight as well for aggressive internet restrictions. And let's not forget the ever-worsening situation in China.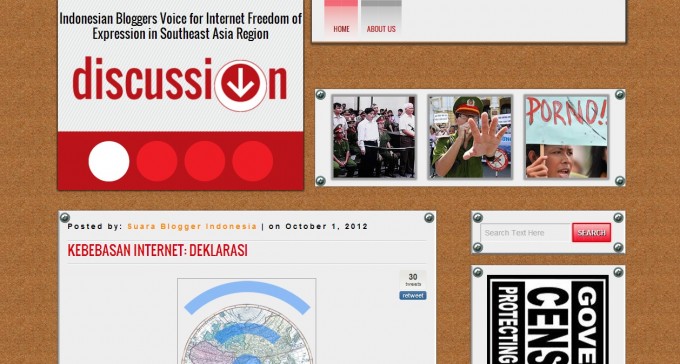 [Via Kompas]