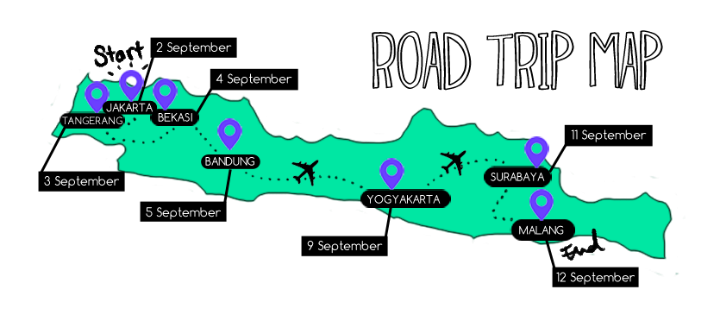 All you enthusiastic Indonesian developers and startups, buckle up, because we will be coming for you this year! In two weeks time, the Tech in Asia team and its partners will be visiting seven cities across Indonesia. Last year we successfully conducted our six cities tour and had an amazing time. Now, we're adding Bekasi and Tangerang to our list of destinations. Check it out!
The travel plan is as follows:
September 2 (Monday): Jakarta
September 3 (Tuesday): Tangerang
September 4 (Wednesday): Bekasi
September 5 (Thursday): Bandung
September 9 (Monday): Yogyakarta
September 11 (Wednesday): Surabaya
September 12 (Thursday): Malang
(Note: The specific location for each Meetup can be seen on the registration page)
In each of the cities, we will be hosting tech workshops for developers and networking sessions for startups. In all, we hope to bring more business opportunities and valuable network to the startup and developer communities across Indonesia.
Schedule in each city:
2pm-6.30pm Tech Workshops (For developers)
6.30pm-7pm Dinner and networking
7pm-9pm Investors Panel and startup pitch
Why should developers join?
For the tech workshop in the afternoon, we have invited some technology partners to share about their technology and platforms. The partners include handset makers, mobile ad networks, and enterprise technologies. These are valuable partners who are able to help developers with distribution, marketing and monetizing their apps. At the same time, developers may also learn a new skill or two from them, and the other participating developers. So pick up your laptop and join us at the workshop!
Why should startups join?
For the meetup in the evening, we are bringing investors who are actively investing in Indonesian startups to each of the cities. Traveling investors includes Cyberagent Ventures, GREE Ventures, Grupara VC, In House VC and more. Investors will share about what they are looking for before investing in a startup. Besides learning more about fund raising from these investors, startups will also get to network and know them in person.
We have also allocated some time for startups in each city to pitch to the attendees and the traveling party. For the fearless startups, please fill in the Google Docs form here to register.
Can't wait to join the fun? You can register yourself at this registration page here. We have limited tickets for meetup due to venue constraints. So, fastest finger first! Please help us share this event with your friends, we love meeting all the talented startups and developers in each city.
(Editing by Anh Minh Do, Steven Millward)