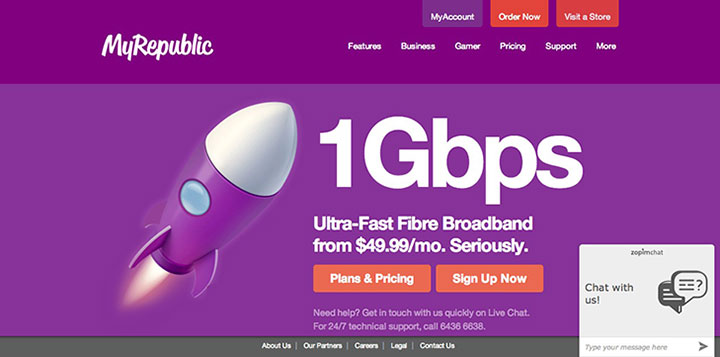 The tech investment scene in Indonesia is getting bigger by the minute, and it's good to see more local companies paying attention to the tech scene. Yesterday, Indonesian energy company Dian Swastatika Sentosa (DSS) (Indonesia:DSSA) invested SGD$4.4 million (US$3.5 million) into Singapore-based internet service provider MyRepublic for 5.9 percent ownership. DSS is part of Indonesian conglomerate Sinar Mas Group. The news was first reported by DailySocial.
MyRepublic is a rare thing – a startup that's aiming to disrupt the telecoms business. The startup celebrated its second birthday in March. CEO Malcolm Rodrigues explained during Startup Asia Singapore that he's aiming at a MyRepublic IPO in 2017.
(See: For MyRepublic CEO Malcolm Rodrigues, telcom is a beautiful business)
DSS itself has a tech portfolio companies in the form of CepatNet, which runs internet optic fibre and cable TV in Indonesia, while parent company Sinar Mas Group owns Smartfren, which operates Indonesia's CDMA telecommunication service and sells Andromax smartphones. Another tech affiliation the Sinar Mas Group has is its partnership with Japanese online service provider Excite, which operates Excite Points in Indonesia. Bloomberg noted in September that Sinar Mas founder Eka Tijpta Widjaja is now Indonesia's richest man.
(Via DailySocial)