The co-founders of Ruangguru are some of the youngest entrepreneurs in Jakarta. But at 24 and 23 years old respectively, Belva Devara and Iman Usman have already traveled the world to arrive at their latest venture. Ruangguru is an online marketplace that connects private tutors and students in Indonesia.
Ruangguru offers courses on everything ranging from traditional classroom subjects to less-common computer education and sports skills. The site also features tutors that specialize in test preparation, language studies, and musical theory. "Anyone can sign up to be teacher on our platform as long as they have expertise or skills to share," Devara says. "Our aim is to be a platform that allows anyone to learn anything from anyone."
This morning in Jakarta, Ruangguru announced it received seed funding of an undisclosed amount from East Ventures. (Disclosure: East Ventures also invests in Tech in Asia. For more information, please see our ethics page.) Devara did not comment on the details of the deal, but did say that all funding up to this point has been a "bootstrapped" effort.
Even as fledgling entrepreneurs, Devara and Usman are confident their business model will work in Indonesia. Devara explains:
There are currently more than 14,000 scattered, small, private institutions offering tuition services to about 1.4 million students all across Indonesia. They normally only operate offline with unclear systems for teacher feedback and reviews. We aim to disrupt this market by offering verified, reviewed, good-quality teachers for any subject anyone can think of."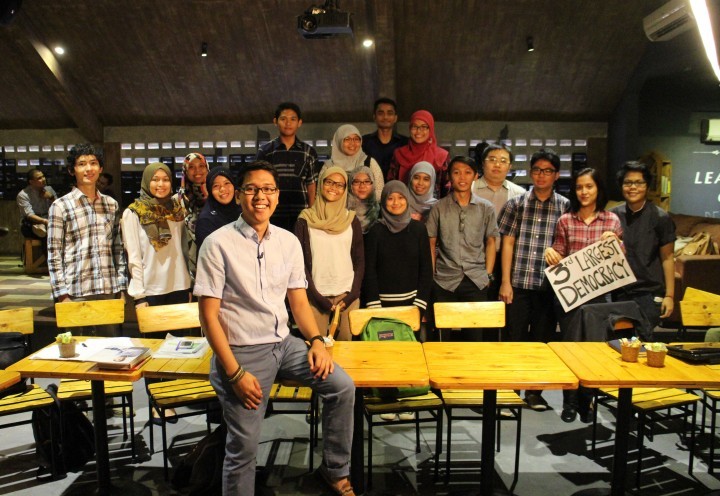 See: Endemic corruption in Indonesia galvanizes edtech startups
Starting up as students
Devara says, "The idea came about when we both had difficulties in finding good tutors when we were about to enter university. In Indonesia, finding good tutors has always been a problematic affair that includes randomly calling friends and family members for references which often results in average-quality tutors." Devara claims his and Usman's convictions for the idea became stronger when they both graduated from university. "We felt that learning somehow stops abruptly after university graduation," he explains. "We felt that everyone would still need an avenue to continually learn as they grow."
Devara graduated from the Nanyang Technological University in Singapore with a Bachelor's degree in business and computer science. He was 21 years old. After that, he took a job at Goldman Sachs, and interned at the delivery unit for Indonesian president Susilo Bambang Yudhoyono. Shortly after, he held a consulting position at McKinsey & Co before becoming a Harvard and Stanford dual degree candidate.
Usman graduated with a degree in international relations from the University of Indonesia last year and is currently working on a Master's in education development from Columbia University in New York. Usman also worked for a couple of years in New York's nonprofit scene. The two co-founders did not comment on how they will continue their higher education overseas while simultaneously running Ruangguru in Indonesia

See: Zenius wants to put more tech into the way Indonesians learn online
Ruangguru launched five months ago. Devara says since then, it has received 1,000 registered teachers from Indonesia. He also claims to have observed organic growth in nearly all cities across the archipelago. According to him, the team will begin aggressively marketing Ruangguru in Jakarta first, followed shortly thereafter with outreach in Bandung and Surabaya.
Competition and disintermediation
Devara and Usman cite direct Indonesian competitors in PrimaPrivat.com, gurules.info, and Tutor.co.id. However, Devara claims that Ruangguru has the advantage when it comes to features like subject variety, verified teacher credentials, and a user friendly interface.
Currently, Ruangguru takes a flat rate of 20 percent of each transaction's value. Devara says, "We understand that recurring revenue might be a problem; offline backdoor transactions might happen after the tutor and the student meet. We are tackling this issue by making the number of tutoring hours registered through our platform to become a significant component of teacher ratings. This will be an incentive for teachers to book tutoring hours through us."
Devara and Usman claim that on a global scale, the tutoring market is expected to reach US$103 billion by 2018, and that Asian countries tend to lead the way for cultural reasons. Devara says the need for informal education options like Ruangguru will continue to grow as the internet further shapes developing nations like Indonesia.
Following a premiere investment from East Ventures, Ruangguru has announced it will initiate its recruitment drive, along with its "one-for-one" charity program. Devara explains, "For every hour of tutoring through our platform, we are donating an equivalent of one day of school to children in need."