Indonesia is one of the most promising tech markets in Asia, so it is quite important for us (and for companies) to understand more about web user behavior in the country. For this reason, market research company Markplus Insight and online magazine Marketeers reveal their latest survey 1 about netizens' behavior in Indonesia. It covers web penetration, online shopping behavior, and favorite brands.
Who's online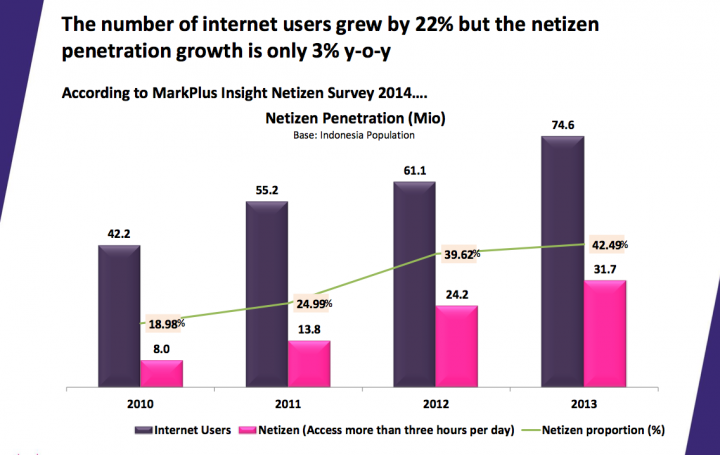 The survey reveals that Indonesia now has 74.6 million internet users, a 22 percent increase from last year's 61.1 million. That number will pass 100 million in 2015.
The study also counts "netizen penetration", wherein a netizen is defined as someone who spends at least three hours online per day. Indonesia now has 31.7 million of them this year, an increase from 24.2 million people last year. The study notes that the netizen penetration rate increased by a meager three percent.
Almost half of the netizens in Indonesia are aged below 30, while people above 45 years of age make up 16.7 percent of netizens in the country. Most netizens access the web via smartphones (86 percent) and spend between IDR 50,000 ($5) and IDR 100,000 ($10) every month for internet access.
Online shopping behavior
20 percent of netizens shop online in Indonesia, just a five percent increase compared to last year. Most of these shoppers are female. The three most popular items bought by these netizens are pretty obvious: clothing (67.1 percent), shoes (20.2 percent), and bags (20.0 percent). 14 percent of these netizens spend an average of IDR 200,000 ($20) for online shopping in the last one year.
Netizens prefer to conduct their online shopping activities on messenger groups like BBM groups (27.0 percent), online forum or classifieds sites like Kaskus and TokoBagus (26.6 percent), and social media (26.4 percent) rather than on conventional online shopping sites (20.0 percent). People prefer messenger groups is because they're more trusted, easy to access, simple, and sometimes they know the seller personally. Price is still the biggest factor that drives online shopping decisions.
When it comes to payment methods, bank transfers account for 80.7 percent of all transactions. Second and third places go to cash-on-delivery (27.1 percent) and credit cards (2.5 percent).
96 percent of netizens say they've never bought original software products. Perhaps that's because it's very easy to find pirated products here and there's not much law enforcement to handle this.
(See also: 6 facts that you should know about cash-on-delivery in Indonesia)
Digital media is taking over the traditional business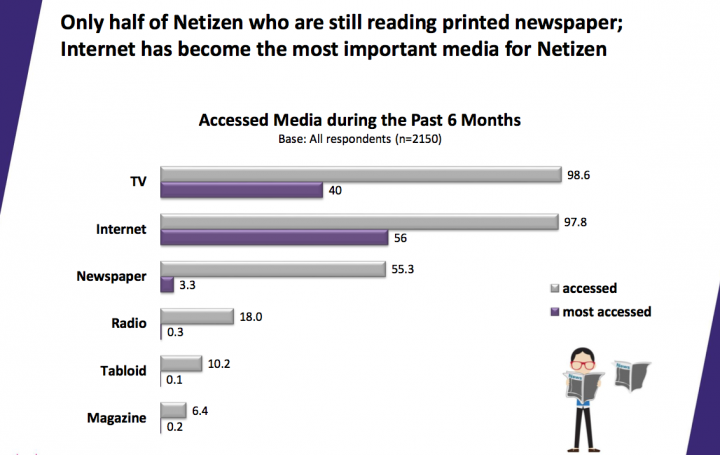 The survey reveals a significant shift of attention from the traditional media to the online world. Only 55.3 percent of netizens have read print newspapers in the last six months. 98 percent of respondents have accessed TV and internet in the last six months, but when it comes to the main source of information, the internet gets the win as shown in the graph above.
Of course, the respondents here are netizens – people who spend a lot of time online – so this result doesn't represent the whole Indonesian populace.
When it comes to the most searched information on the net, Indonesia's power web-users mostly search for news (54.2 percent), entertainment (16.3 percent), film (10.2 percent), sports (8.7 percent), and music (8.5 percent). Political news (7.4 percent), soap operas (6.0 percent), celebrity news (5.5 percent), gossip (5.2 percent), and educational material (5.0 percent) make up the rest of top searches.
Favorite brands
Which are the top brands among Indonesia's netizens? Here are some of them:
Online media: Detik, Kompas, and Yahoo.
Online shops: TokoBagus, Kaskus, and Facebook (yes, apparently Indonesians consider Facebook an online shop).
Internet banking: KlikBCA, Mandiri, and BRI.
Messaging apps: BBM, WhatsApp, and Line.
Google Plus popular among older folks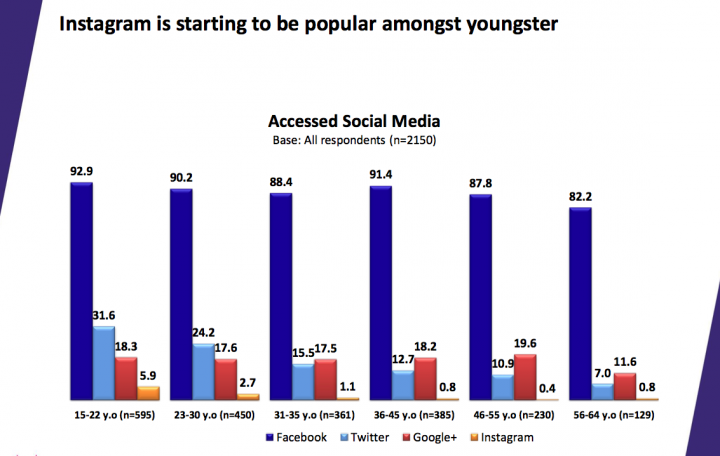 While Facebook stays atop the social media pyramid in Indonesia, Google Plus is quietly becoming more popular compared to Twitter among people aged over 30 in Indonesia. The survey also looks at how many people provide their real ID and personal info when online, with 55.6 percent saying they do so, but 31.8 percent prefer to remain anonymous. The main reason is security.
Yahoo and Mindshare co-released another survey recently about Indonesia's smartphone and tablet users, which is also worth seeing.
(Editing by Steven Millward, Willis Wee, and Paul Bischoff)
---
The face-to-face survey covered 2,150 respondents living in 10 major Indonesian cities between August and September with multistage random sampling. The respondents are aged between 15 to 64 and are all middle to higher income citizens who access the internet at least three hours a day.