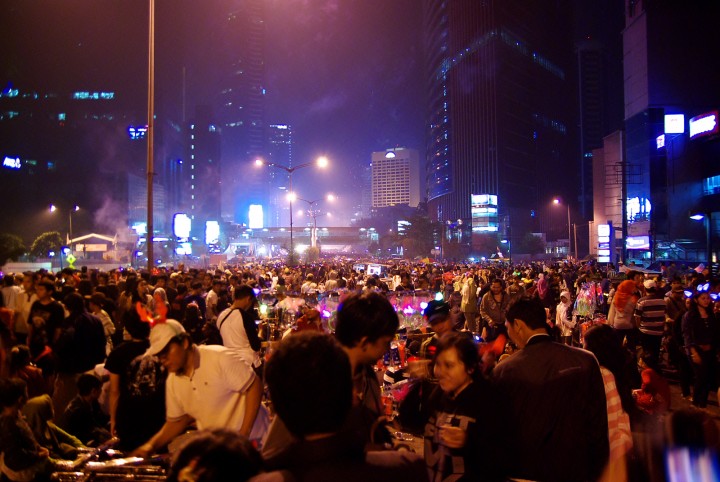 The past century hasn't been an easy road for Indonesia. Since the liberation from the Japanese in 1945, and through the rise and fall of the oppressive Soeharto regime (lasting for nearly three decades), Indonesians as a people have learned to "suck it up and soldier on" so to say. 16 years ago, the capital was inches away from tearing itself to pieces in the wake of riots and anarchy-filled streets. But from the rubble and chaos, Indonesia was able to quickly pull itself up by the bootstraps and march forward once again. As one of the youngest democracies in the world, it has also been forced to grow up faster than some of its other Southeast Asian counterparts. So in that sense, it's fair to say the nation is maturing quite quickly.
With a new president elect, an educated young generation is increasingly hopeful about international business opportunities and domestic policy. For the first time in 100 years, Jakarta is electrified with exciting innovations and flourishing startups. The internet has played a vital role. Increased global communication the world over has helped slingshot the country into an economic expansion. Faster web speeds have also put Indonesia in a position to solve some of its own problems and foster a one-of-a-kind identity. In light of Indonesia's Independence Day today, here are five tech products that you'll only understand if you live in the world's largest archipelago.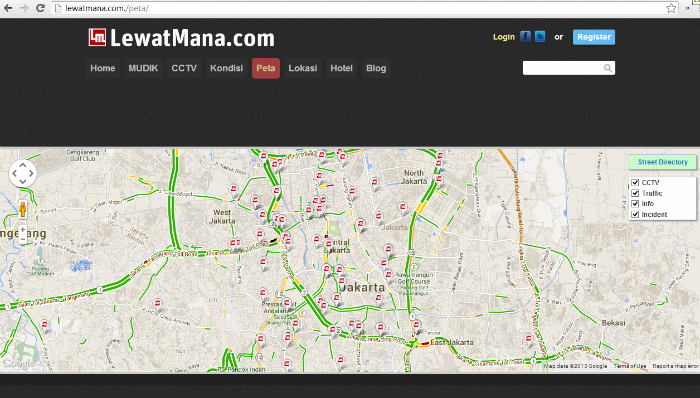 Jakarta is one of the world's most notorious cities for debilitating traffic. It's not uncommon for locals to show up hours late to a luncheon because they were fighting congested roadways. While the real solution will need to come from an infrastructure overhaul, LewatMana is an app that can help ease the transition in the meantime. LewatMana helps Indonesian commuters dodge traffic with live CCTV feeds during travel times. Singaporeans may not understand the utility of the app, as they simply board their clean and air-conditioned MRT. But ask an Indonesian who has ever sat on the back of a motorbike, inhaling black smoke from a Kopaja bus on Jalan Sudirman, and they will assure you LewatMana is a life-saver. Users can effectively get updated with traffic conditions in real-time without needing to buy a GPS kit. LewatMana is available on Android (Lite version), Blackberry, iOS, and Windows Phone.
See: 11 mobile apps that make commuting easier in Indonesia's biggest cities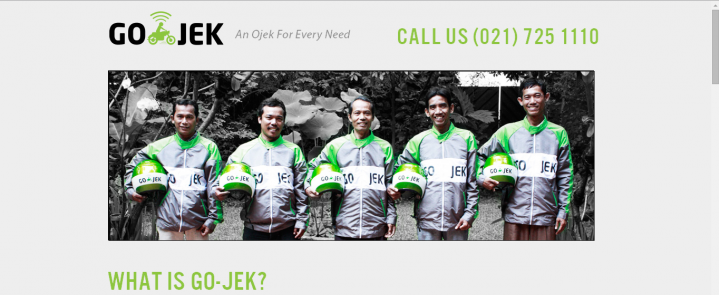 Another way of coping with Indonesian traffic is by letting someone else deal with it for you. Motorcycle taxis (aka ojeks) are a convenient way to get across town quicker than you could in a car, provided you don't mind sweating and smelling like gasoline for the rest of the afternoon. But unlike traditional taxis, and true to the Indonesian way, this is a completely unregulated industry. Often, shady individuals will lean against trees and "cat-call" for potential customers. GO-JEK brings safety, reliability, and accountability to the ojek experience. The site not only lets users easily order an ojek anywhere in Jakarta, but also provides an instant courier service along with home delivery for groceries and takeout meals. The site is currently in the process of developing a mobile app with several new updates and features.
HijUp is Indonesia's fashion ecommerce site for Muslim women. One of the only local players bringing new chic style to traditional Islamic apparel, HijUp has hit the Indonesian market over the head with a sledge hammer. Last year the site recorded between 45,000 and 90,000 daily pageviews (1.3 to 2.7 million per month), and had the 12th most popular Indonesian YouTube channel.
Indonesians are curious cats. Gossip is a big part of the culture here in Jakarta, and as such, locals want to know how high of a salary their neighbor is earning. Qerja is giving us something to talk about. This fresh new company is emerging from the Ideabox accelerator and acts as a localized version of Glassdoor, the famous US startup that lets users compare average salaries and benefits of working for any given company. Indonesian locals can now refer to Qerja to set their own personal working and payment standards. The founders are keeping low profiles (as the site is still in its beta version), but the service is disruptive to say the least.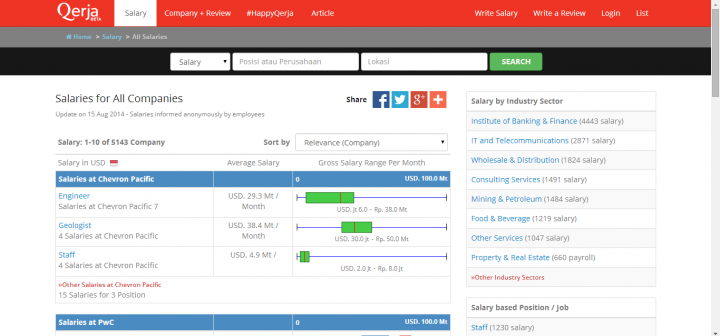 See: Who's invested in Indonesia's site similar to Glassdoor
For those of you who don't know, Indonesia is blatantly rife with corruption, with a long history of cheating and alleged political fraud. For these reasons, and with all the media coverage in recent months, locals are hailing the creators of Kawal Pemilu (English translation: "Election Guards") as the nation's new wave of tech patriots.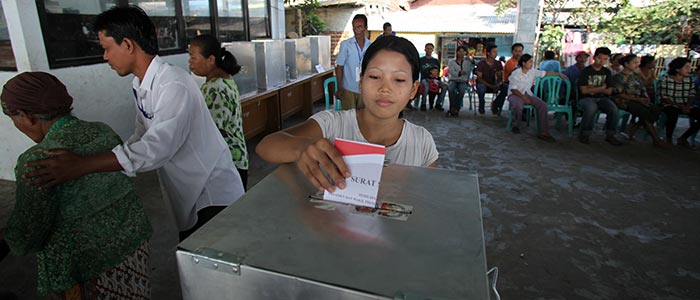 Kawal Pemilu is a 700-person team of volunteers who counted the 2014 presidential vote tally documents manually and released the results online in real-time. Although the Indonesian elections are over, and the winner has been announced, locals can expect to see Kawal Pemilu in a more sophisticated form come future elections. Having been referred to as a team of tech freedom fighters, Kawal Pemilu galvanized voters this year, and redefined what it means to to live in an Indonesian democracy.
Image of Jakarta crowd via Flickr user Ardy Hadinata Kurniawan.